How to Attack Late-Night Snacking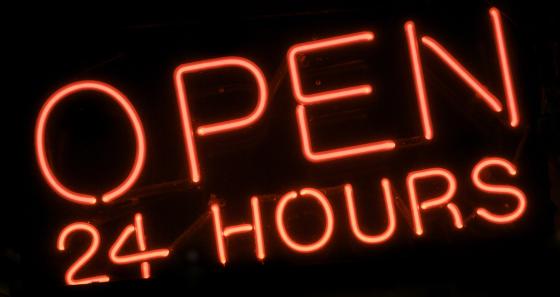 Most convenience stores are open late or even 24 hours a day, when many other businesses have already closed their doors. With the variety of products at a convenience store, it should be a natural place to go when someone needs to pick up something late at night.
This, of course, also applies to food — and night owls crave their midnight snacks. In fact, in a 2017 consumer survey conducted by the Tyson Convenience team, 51 percent of consumers said the No. 1 reason they purchase food at a convenience store is to satisfy a craving.
Retailers can capitalize by offering an array of prepared food snacks geared toward late-night snacking. With the right products and the right message, you can turn yourself into a late-night destination.
What Are You Going to Serve?
The most important thing when picking snacks for your offering is portion size. Bite-sized and portable options are the way to go because they are easy to eat and easy to manage. In the 2017 Tyson Convenience consumer survey, 47 percent of consumers said they prefer to eat snacks with two fingers over utensils.
After making it easy to eat, look to offer items with some uniqueness. With limited places for people to visit for late-night cravings, you may draw a variety of customers that don't normally come in your store.
Think of classics like pizza sticks or nachos, but also feel free to get creative. For example, a special flavored dipping sauce or even a special "Late Night Menu" can position your offering differently in the minds of both frequent and infrequent customers. The more tempting, the better.
How Are You Going to Sell It?
After you select your products and build the menu, you need to let customers know about it.
One good way to do this is designating a late-night snack station and making it a key communication element in the store. For this station, place a mix of packaged snacks, prepared foods and even beverage options that connect with late-night cravings.
In addition, offering special combos can provide something new to communicate in the store as well, different than what's there the rest of the day.
Drive people to the station however you can. Have your team in the store talk about what's available and suggest items from the special display. Sampling can be a great way to build awareness when first introduced, as well.
The bottom line is you need to consider how you can communicate within the store on the availability of the offering. Craveable late-night items and the need you are trying to fill in your store are completely different than what your customers are seeking as part of their morning routine, for example. Both the offering and the communication need to be different. 
A store could have the perfect lineup of items, but without the right positioning and the right message, no one will know. 
Mastering late night won't happen overnight, but with the right products communicated in the right way, you may just find yourself the go-to spot for that late-night snack and develop a whole new area of growth for your foodservice program.
Kevin Miller is senior manager of convenience channel marketing at Tyson Foods.
Editor's note: The opinions expressed in this column are the author's and do not necessarily reflect the views of Convenience Store News.