05/24/2018
Inside the Mind of Maverik's Corporate Chef Kyle Lore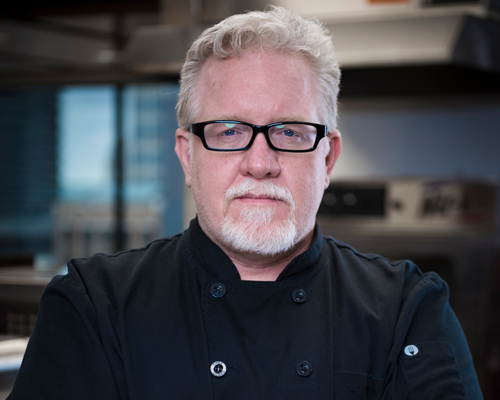 SALT LAKE CITY — Nothing Chef Kyle Lore's traditional apprenticeship or his following years working in fine dining could have led him to believe that he would enter the convenience store industry and help spearhead a culinary transformation. But the opportunity came along at the right time: Maverik Inc. needed a new corporate chef and Lore was seeking work hours that were a better fit to spend time with his children.
During his interview, Maverik's Director of Foodservice Rich Green questioned Lore on whether the lower level of creativity would be a dealbreaker for him. Yet Lore has found that he can still be creative by tackling the challenges of reimagining a foodservice program with limited resources in terms of physical space, equipment and entry-level employees.
"How to design things that can be produced in that environment yet have a really good fresh offering — that's where the creativity comes in," Lore told Convenience Store News. "You have to really tear apart processes to develop something that can be successfully executed in our environment, consistently, and have a high level of quality."
Part of his duties have involved going through all of the ingredients Maverik used in order to identify those that were not up to the standard they wanted to set, as well as those that could be used to compete with best-in-class convenience stores and higher end quick-service restaurants.
From there, the foodservice team explored pricing and samples.
"We quickly realized that in our market, the customer's resistance to waiting was very short," he said, explaining that customers had been trained to expect the speed of grab-and-go items and their standards for speed don't go away even when choosing a made-to-order product.
This prompted Maverik to focus on quality items that could be prepared quickly and consistently, such as street tacos.
The retailer was also able to identify third-party purveyors that were willing to take a leap of faith on the research and development process. This allowed Maverik to negotiate good margins based on volume and growth.
"It's a constant exploration," Lore said of the process of coming up with new offerings. Using limited-time offers (LTOs) and category innovation to attract customers enables Maverik to grow its foodservice program without undercutting itself with too many discounts or overly low pricing. This means Lore is always working on some stage of a possible new product.
Some of the changes Lore has overseen are less dramatic, but still resulted in positive change. The company used to buy frozen dough pucks for its cookie program. To avoid the additives and shelf extenders that Lore says prevents frozen cookies from being truly premium, they developed a cookie base that is simple but similar to what someone might bake at home.
While there are ways to do more with less, from Lore's perspective, retailers that want to improve their foodservice program must invest in it.
"They need to commit to the labor attached. So many convenience stores try to have the food executed by the same person doing the cash wrap," he said. "That is so limiting — you'll never get anywhere with it."
It isn't that food preparation is too complicated for floor staff to learn, but rather that it is too difficult to multitask, according to Lore. By committing to having employees who are only there to work in foodservice and training them properly, c-stores will see better results and less turnover.
He also advises c-store operators to look to higher-end QSRs as their foodservice peers and compete with them on price and quality, as opposed to value-focused fast-food chains.
"Why try to compete with McDonald's on McDonald's food? That's a losing game," he said. "The only thing to do is differentiate yourself. Offer your products and sell them at a price you can make money on."
Salt Lake City-based Maverik operates more than 300 convenience stores across 10 states.
For more on Maverik's foodservice journey, check out the May issue of Convenience Store News.