JAM Mart Adds Ninth Location to Its Arkansas Chain
GREENWOOD, Ark. -- JAM Investment LLC has opened its newest JAM Mart convenience store located in Greenwood, Ark., at 1275 West Center St. in the 10 Spur Plaza shopping center. The location was completely remodeled by Gateway construction of Fort Smith, Ark.
"The remodel was completed to provide a friendlier, more open feel that better represents what customers expect from JAM Mart," explained Brad Arterbury, president of JAM Mart stores.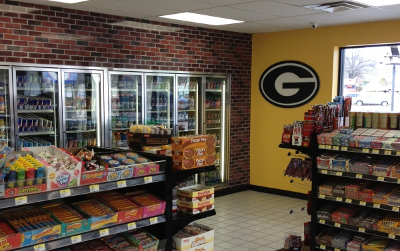 The remodeling follows JAM Mart's victory for Best Fountain Presentation in the Convenience Store News Store Design Contest in October. A JAM Mart location featured an innovative fountain drink station with bright and colorful signage inviting customers to "Pop in for a Drink."
JAM Mart is a family owned and operated chain of nine convenience stores in Arkansas with locations in Fort Smith, Greenwood, Booneville, Ozark, Paris and Danville. The Greenwood store is the chain's ninth location, and the fourth JAM Mart to open in the past four years.
"Greenwood is a great community to raise a family in, and we wanted to provide a store that the town can be proud of," said Tyson Washburn, general manager of JAM Mart. "We are proud to be in Greenwood, and look forward to being an active member of the community."
JAM Investments LLC also operates the JAMMIN Joe's coffee brand and the JAMMIN Café fresh food brand.