Kangaroo Express, e-Swisher Going Racing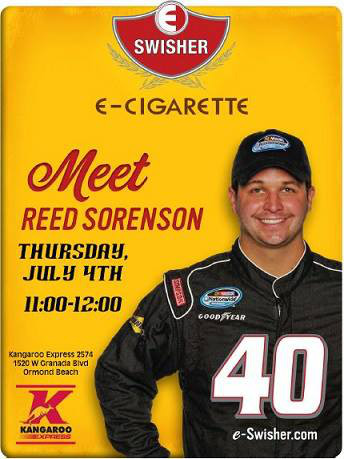 CARY, N.C. -- Kangaroo Express signed on as a sponsor of e-Swisher's racing team for the Subway Firecracker 250 NASCAR Nationwide Series race at Daytona International Speedway, which will take place Friday, July 5.
The No. 40 Chevrolet Camaro will be driven by Reed Sorenson at the Florida speedway. Customers and racing fans are invited to visit the Kangaroo Express located at 1520 W. Granada Blvd. in Ormond Beach, Fla., on July 4 for a "meet and greet" with Sorenson.
While there, fans can show support for U.S. troops and their families by donating to Kangaroo Express' third annual Salute Our Troops campaign. Funds raised directly benefit the USO, Fisher House Foundation and eight state-based military support organizations, including the Florida National Guard Foundation.
"Just in time for Independence Day, Kangaroo Express is joining forces with The Motorsports Group and the No. 40 e-Swisher racing team to bring together a celebration complete with racing, hot dogs and Kangaroo Express' Salute Our Troops campaign," said Paul Moody, division vice president for Kangaroo Express. "We invite all fans to join Kangaroo Express in Ormond Beach on July 4 to meet Reed Sorenson and help support our military and their families."
Fans will also have a chance to win a prize pack that includes Reed Sorenson autographed memorabilia and more. They can follow Kangaroo Express at www.twitter.com/krooexpress to enter.
"We're pleased to collaborate with Kangaroo Express for this special July 4 celebration as part of its Salute Our Troops campaign," said Ed Denk, director of marketing for Swisher International.
Kangaroo Express is the primary operating banner of Cary, N.C.-based The Pantry Inc., which has more than 1,500 convenience stores in 13 states.
e-Swisher is a line of electronic cigarettes and e-cigars by Jacksonville, Fla.-based Swisher International.