Kum & Go Goes On the Road With Coca-Cola
WEST DES MOINES, Iowa -- Convenience stores and beverages go hand in hand. Throw in an element of grab-and-go and it's likely to be a winning combination.
Kum & Go LC and The Coca-Cola Co. recently teamed up to test that equation. Last year, Atlanta-based Coca-Cola created "On The Road Again" (OTRA), a cooler designed to capture impulse buys, enhance foodservice and generate combo sales by placing Coca-Cola beverages, snacks and meal items within reach of each other.
West Des Moines, Iowa-based Kum & Go became the first convenience retailer to test the new merchandising solution, adding it to stores in five U.S. markets in August. Now, after several months of piloting the program, the Midwest chain has finalized the results and is looking for opportunities to roll out OTRA to additional locations, Kum & Go Category Manager Richard Ginther told CSNews Online. Kum & Go operates more than 400 convenience stores in Iowa, Arkansas, Colorado, Minnesota, Missouri, Montana, Nebraska, North Dakota, Oklahoma, South Dakota and Wyoming.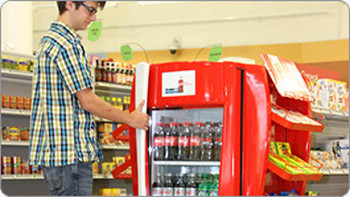 "Kum & Go wanted to better understand customers' shopping behaviors and whether this might be a positive solution for our busy shoppers," Ginther explained. "The OTRA gave the customer several bundling solutions, with beverages, salty snacks, fresh sandwiches and candy within a concise footprint."
The c-store retailer placed the OTRA coolers on a front endcap -- typically furthest from the front door -- in 24 stores throughout Iowa, Nebraska, Missouri, Oklahoma and Arkansas. According to Ginther, the test stores were "strategically selected to conduct a statistically accurate control and test study."
Inside the cooler, Kum & Go featured Coca-Cola and Dasani 20-ounce beverages. On the outside shelves, customers found a variety of Kum & Go's private-label salty snacks and fresh-made sandwiches, along with a selection of Planters nuts, M&M'S, Mars and Hershey candy bars. To draw further attention to the cooler, the retailer ran bundle promotions that offered either two or three items in the OTRA display at special price points ranging from $2 to $5.
"Kum & Go experienced significant incremental growth on the items featured in the OTRA," Ginther reported. "[The] Kum & Go-owned brand of salty snacks saw increases of approximately 50 percent, with beverages and candy experiencing significant incremental increases also."
The response to the OTRA cooler was overwhelming positive among both consumers and store employees. Customers described "favorable enhanced shopping experiences," he said, while employees also gave the OTRA a thumbs-up, noting that the all-in-one display was more convenient for busy customers.
In fact, customers began requesting to have more selections available within the OTRA. "Consumers were looking for ultra convenience," Ginther said.
The On the Road Again merchandising solution emerged from Coca-Cola's Shopper Experience Innovation Center. The cooler design features a 10-inch video screen with updated brand and promotional messaging. The cooler has the capacity to hold up to 126 20-ounce beverages inside, plus it includes five external shelves on either side. In total, the OTRA display occupies a 9.4-square-foot space, according to Coca-Cola.
"Beverage and food sales are critically important to our retailers, and convenience is a driving force behind why shoppers visit c-stores," said Russell Baker, group director, retail channel planning and development, for Coca-Cola Refreshments. "We relied on a breadth of insights such as these to provide the inspiration to develop OTRA. We see it as a key part of the company's mission to create irresistible in-outlet shopping experiences that help retailers drive business forward."