Manufacturers Respond to FDA's Stepped-Up Enforcement of E-Cigs
Get great content like this right in your inbox.
Subscribe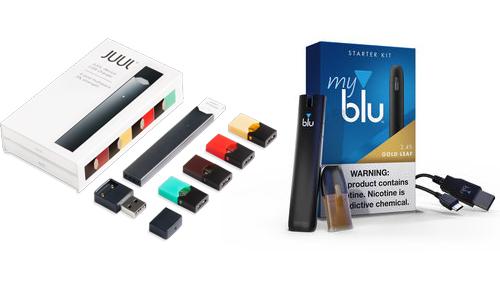 SILVER SPRING, Md. — In light of the Food and Drug Administration's actions following a crackdown on electronic cigarettes and youth access, industry manufacturers stand by their commitment to keeping c-cigarettes and vapor products out of the hands of minors.
"JUUL Labs will work proactively with FDA in response to its request. We are committed to preventing underage use of our product, and we want to be part of the solution in keeping e-cigarettes out of the hands of young people," said Kevin Burns, CEO of JUUL Labs.
Burns also stood behind the use of flavors in the products, even as FDA Commissioner Scott Gottlieb said agency was re-examining its position on flavors.
"Our mission is to improve the lives of adult smokers by providing them with a true alternative to combustible cigarettes. Appropriate flavors play an important role in helping adult smokers switch," Burns said. "By working together, we believe we can help adult smokers while preventing access to minors, and we will continue to engage with the FDA to fulfill our mission."
His comments came as the agency revealed it issued more than 1,300 warning letters and fines to retailers who illegally sold e-cigarette and vapor products to minors during "a nationwide, undercover blitz" of retail stores and online sites this summer.
According to the FDA, the recent enforcement initiative from June through August found the vast majority of the violations were for the illegal sale of five e-cigarette products — VUSE (British American Tobacco), blu (Imperial Brands subsidiary Fontem Ventures), JUUL, MarkTen XL (Altria Group Inc. subsidiary Nu Mark LLC) and Logic, as Convenience Store News previously reported.
As a result of its findings, the agency issued letters to the manufacturers of the five brands asking each company to submit within 60 days plans describing how they will address youth access and use of their products.
According to the agency, if they fail to do so, or if the plans do not appropriately address this issue, the FDA will consider whether it would be appropriate to revisit the current policy that allows these products to stay on the market without a marketing order from the agency.
"Fontem Ventures strongly believes that e-vapor products like blu and myblu are to be used only by adult smokers. Minors should not use any tobacco or nicotine products, and we fully support and advocate for both legislation prohibiting sales of vaping products to minors and the ongoing FDA enforcement action against retailers selling e-vapor and other tobacco products to minors," the company said in a statement.
"We are evaluating [the] request and statement from the FDA. On youth access, we have common aims. We welcome the opportunity to demonstrate, and work with the FDA to further strengthen, our youth access prevention policies and procedures. We will continue to work with regulators in the U.S. and elsewhere to implement best practices in all our commercial activities," it added.
According to Fontem Ventures, blu adheres to marketing and advertising standards that ensure all communications are intended for, and presented to, adult audiences only.
It also takes "proactive measures to ensure responsible sales practices, both on our own online storefront and through third-party online and brick-and-mortar retail locations." Those measures include:
Conducting a thorough online age verification process via third party vendors Veratad and Experian, in addition to mandatory manual ID checks for anyone with a date of birth that shows them to be under 27;

Monitoring all transactions for evidence of fraudulent activity, unauthorized wholesaling, or sales by proxy where products could potentially reach non-adult users;

Requiring a commitment from vape store partners to prohibit underage access;

Requiring retail partners' compliance with all applicable local, state, and federal laws; and

Conducting post-market surveillance to flag any concerning demographic trends.
While other companies did not specifically address the FDA's action, in a series of tweets Altria highlighted its efforts to preventing youth tobacco use.
"Kids should not smoke or use any tobacco products. It's a goal we share with public health, policy makers, parents, youth-serving organizations and many others who care about young people making healthy decisions," the company said, with a link to its initiatives.