10/12/2018
Marathon Converts SuperAmerica Locations to Speedway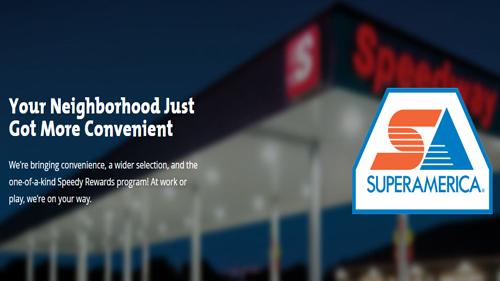 FINDLAY, Ohio — Marathon Petroleum Corp. (MPC) is putting its stamp on convenience store assets it's recently acquired as part of the Andeavor transaction.
As part of the $23.3-billion merger of MPC and Andeavor, MPC added SuperAmerica c-store and gas station assets to its retail network. Now, roughly two weeks after closing on the deal, MPC is rebranding those properties as Speedway.
Enon-based Speedway LLC is a wholly owned subsidiary of MPC. The chain counted approximately 2,740 stores in 22 states before the deal.
"SuperAmerica is now Speedway," SuperAmerica's website now states.
What does this mean for customers? According to the site, customers "will still be served by the same friendly employees in the same friendly locations. But you'll also enjoy new benefits like Speedway's advanced, secure pumps and easy-to-use Speedy Rewards program. All so you can get what you need — and get on your way."
Members of SuperAmerica's SA Rewards program will be able transfer their points and club balances to Speedway Rewards and receive 1,000 bonus points.
History of SuperAmerica
SuperAmerica, known to its customers as SA, traces its roots back to 1960. The first location opened at 7th Street and Wall in downtown St. Paul, Minn. Elmer Erickson purchased the location as an outlet for the products of the Northwestern Refining refinery located in St. Paul Park, Minn.
In 1998, SuperAmerica merged with Emro Marketing Co., the retail marketing subsidiary of Marathon Oil. The move formed the second largest company-owned and -operated convenience store in the United States.
Speedway SuperAmerica LLC continued its existence until 2010 when Northern Tier Energy purchased the SuperAmerica banner, bringing the brand back to Minnesota.
The brand changed hands several more times in the 2000s, starting with the acquisition of Northern Tier by Western Refining in 2016. Western Refining, in turn, was acquired by Tesoro Corp. in 2017, which soon after changed its corporate name to Andeavor.
Marathon & Andeavor
On Oct. 1, Findlay-based MPC acquired all the outstanding shares of San Antonio-based Andeavor. The companies announced the deal on April 30.
The merger expanded Marathon's operations across key markets nationwide, combining the strong position it has historically enjoyed east of the Mississippi with the western U.S. presence that Andeavor has built over time. 
In refining, Andeavor's facilities in California, the Mid-Continent and the Pacific Northwest complement MPC's existing Gulf Coast and Midwest footprint, and will make the combined company the No. 1 U.S. refiner by capacity and a top five refiner globally with throughput capacity of more than 3 million barrels per day.
Pro forma, MPC will have a nationwide retail and marketing business of approximately 4,000 company-owned and -operated locations and approximately 7,800 branded locations.
MPC will keep its headquarters in Findlay with an office in San Antonio.
Speedway President Anthony Kenney remains at the helm of the combined retail network.
MPC is a leading integrated downstream energy company. The company operates the nation's largest refining system with more than 3 million barrels per day of crude oil capacity across 16 refineries. MPC's marketing system includes approximately 7,800 branded locations across the U.S., including approximately 5,600 Marathon-brand retail outlets. 
Speedway LLC now owns and operates approximately 4,000 retail convenience stores across the U.S.