Mars Plans Summer Movie Mania Promotion
HACKETTSTOWN, N.J. -- Mars North America will launch a Summer Movie Mania promotion this June, allowing customers to win movie-related prizes. The promotion -- a follow-up to this year's M&M's Brand Movie Cash Promotion -- will take place from June through August.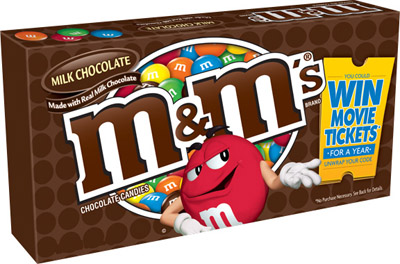 The promotion will implement both immediate- and future-consumption incentives across multiple retail channels, including convenience stores. In Mars' immediate-consumption national instant-win game, customers can enter to win free movie tickets for one year. In its future consumption program, customers can purchase three bags of Mars brand products and do a mail-in for $9 in movie cash. Participating Mars brands include Snickers, M&M's, Twix, 3 Musketeers, Milky Way and Dove Chocolate, along with Mars Ice Cream.
The promotion's movie theme is based on the film industry's continued growth and the fact that movies are the most popular social sharing occasion, according to research. To support Summer Movie Mania, Mars' marketing efforts will include a national FSI, coupon tear pads and more. The top-level prizing will provide greater winning probability based on the exclusive display program, according to Mars.