McDonald's & Franchisees Investing $6B to Modernize Most U.S. Restaurants by 2020
Get great content like this right in your inbox.
Subscribe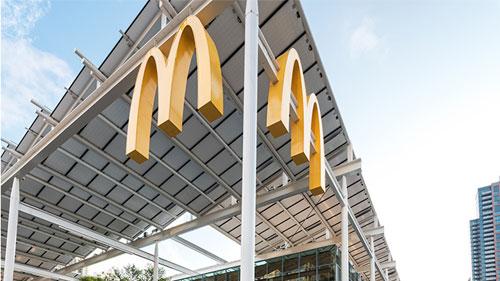 OAK BROOK, Ill. — McDonald's Corp. and its franchisees are investing $6 billion to modernize most U.S. restaurants by 2020, transforming them with the "Experience of the Future" (EOTF) design to enhance the customer experience with more convenience, personalization and choice.
The transformed restaurants will feature modernized dining rooms with globally and locally inspired décor, new furniture and refreshed exterior designs.
The company will also enhance the customer experience with digital self-order kiosks that make ordering and paying for meals easier, while enabling guests to browse the menu, find options and alter their meals to give them exactly what they want.
 As of June, plans call for McDonald's to upgrade 1,000 stores with technology enhancements every quarter for the next eight to nine quarters, as Convenience Store News previously reported.
Among other enhancements are:
Remodeled counters allow for new table service that offers guests the opportunity to relax while their food is being made;

Bright and easy-to-read digital menu boards inside and at the drive-thru;

New designated parking spots for curbside pick-up through mobile order and pay; and

Expanded McCafé counters and larger display cases.
McDonald's has approximately 5,000 EOTF restaurants in the U.S. to date with plans to transform most all freestanding restaurants by 2020.
"Experience of the Future" Unveiled
The quick-service restaurant company unveiled one of its latest EOTF restaurants with its flagship location on Aug. 9.
Located at Clark and Ontario streets in Chicago, the 19,000-square-foot environmentally-friendly designed restaurant is constructed of wood timber and steel, and features self-order kiosks, table service, mobile order and payment, and delivery.
"Chicago is truly a special place for McDonald's. Not only is it the new home for our modern global headquarters but new restaurant experiences that are unique to this city," said McDonald's President and CEO Steve Easterbrook. "We are proud to open the doors to this flagship restaurant which symbolizes how we are building a better McDonald's for our customers and the communities where they live."
Highlights of the restaurant include:
More than 70 trees at the ground level, a vegetated roof space and a floating glass garden of ferns and white birch trees. Native and drought resilient plants are being used throughout the landscape along with permeable pavers for the lot surface to minimize irrigation and reduce storm water runoff.

Enhanced energy performance with an on-site solar panel array for renewable energy collection to offset part of the restaurant's non-renewable energy consumption; interior and exterior LED lighting; and energy efficient kitchen and HVAC equipment, including energy saving freezer/coolers, low oil fryers, energy-efficient fans and more.

Expansive pedestrian-centric space featuring plazas with outdoor seating and a park area.

An enhanced McCafé presence with a separate counter and baked goods display.

An increased focus on hospitality with guest experience leaders and table service.
"This is one of the most amazing McDonald's restaurants I've ever seen and a great fit for this iconic location," said Nick Karavites, owner and operator, McDonald's. "I know Chicago will be as proud as I am to have this one-of-a-kind restaurant in our great city."
The restaurant operates seven days a week and 24 hours a day, both for dine-in and drive-thru customers.
The restaurant was designed by Chicago-based Ross Barney Architects, known for their design of Chicago's Riverwalk amongst other projects throughout the U.S. The modern interior including furniture, graphics and layout were designed by Sydney-based Landini Associates, a worldwide known design firm that has collaborated on other McDonald's projects. The restaurant is applying to become LEED certified.
Oak Brook-based McDonald's has more than 37,000 locations in more than 100 countries. More than 90 percent of the company's restaurants worldwide are owned and operated independently.
Click on the photos below to go inside McDonald's flagship location.