Miller Chill Will Get the Freeze Next Year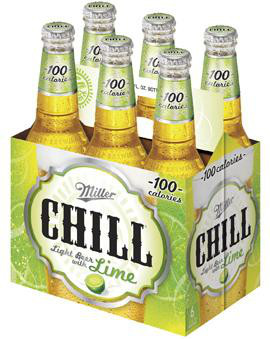 CHICAGO -- MillerCoors will freeze production of its Miller Chill beer next year. The lime-flavored beer directly competed with Bud Light Lime, but will be discontinued as the brewer focuses instead on new product launches, according to a report by Advertising Age.
"We have been vocal about our desire to evolve our portfolio to the fast-growing and higher margin segments of the beer business…especially at the high end," MillerCoors spokesman Jonathan Stern stated in an email to the news outlet. "As part of this initiative, we are trimming low-volume and low-value SKUs and brands."
Stern pointed to MillerCoors' success with higher-end brands, including Redd's, Third Shift and Leinenkugel Summer Shandy. Going forward, the brewer will turn its focus to Miller Fortune, a higher-alchohol premium brew that will launch next year and compete directly with spirits brands.
Miller Chill initially launched in 2007 and was promoted as a "great light beer from America and the cheleda-style from Mexico." The original formula added a "hint of lime" and a "pinch of salt," and was packaged in a green glass bottle. Sales suffered when Anheuser-Busch debuted Bud Light Lime in 2008. In response, MillerCoors reformulated Miller Chill with more lime flavor, put it in a clear bottle, and lowered its calories and carbohydrates in comparison to Bud Light Lime.
Both Miller Chill and Bud Light Lime have seen declining sales lately, according to research by IRI. Miller Chill's sales plummeted by 35.7 percent in the year ended Oct. 6 to a dismal $8 million, or 0.03-percent share of the beer category, while Bud Light Lime's sales also fell by 11.04 percent to $291.4 million in the same period, giving the product a 0.98-percent market share.
Meanwhile, the Miller brand's most widely selling brew, Miller Lite, recently landed a product placement in the upcoming movie, "Anchorman 2: The Legend Continues." For a limited time, Miller Lite will have retro packaging featuring its original 1975 design.