More Rutter's Stores Heat Up With High-End Coffee Bar
YORK, Pa. -- Always looking to stay ahead of the curve when it comes to the next "must have" program in the convenience channel, Rutter's Farm Stores began testing a high-end coffee bar in two of its convenience stores in September.
The retailer decided to launch the program in only two stores initially so it could see how the program functioned, develop procedures and processes for it, make any corrections to recipes, and test the touchscreen ordering system to make sure it worked the way the company intended, Jerry Weiner, Rutter's vice president of foodservice, told CSNews Online.
Fast forward six months, and the York, Pa.-based company has added the ramped-up coffee program to 33 of its 57 c-stores. Some of those locations were incorporated just this month.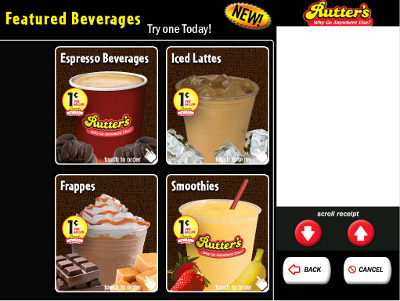 "The [two] stores were in test for approximately three weeks to get all those things stabilized," Weiner explained. "We expanded the test to another nine stores and, as of December, we decided to expand it to an additional 22 stores. The last of those 22 stores just went live in [in early April]."
Rutter's chose which stores would feature the new program based on space. The coffee bar, he said, takes up slightly more than 8 feet of counter and under-counter space. "This just wasn't available in every location," Weiner noted. "We put it everywhere it would fit."
Moving forward, Rutter's will include the high-end coffee bar in all remodels and ground-up construction. The offering includes typical hot specialty beverages -- lattes, cappuccinos, espressos and Americanos. It also has a cold beverage lineup of iced lattes, frappes and smoothies.
Similar to Rutter's fresh food program, the coffee bar allows customers to add different flavorings, syrups, sauces and toppings to both hot and iced beverages. The beverages sell for a fixed price and personalization is free with the exception of an additional shot of espresso.
"The [touch]screen gives everybody an opportunity to personalize their beverages just as they do in personalizing the food offer," Weiner said.
Why this ramped-up program? The time was right, according to the foodservice vice president.
"We are always looking for the next thing to add to our program. Our hot [food] program is doing extremely well, so it just seemed natural to move into this venue," he explained. "Customers are into this. They are using it almost like a treat -- an afternoon treat, an evening treat. You think coffee and you always think of a morning business and the [breakfast] daypart. That may be true for the hot beverages, but the iced beverages are really an afternoon treat."
As for customer response, Weiner said so far, so good. He hopes the buzz continues as the weather begins to warm up.
"We have only had it during the winter months, which for this particular beverage is the opposite curve, but it has been well received," he stated. "We are very pleased, and looking forward to the spring."
Weiner is not divulging what's next for Rutter's foodservice, but he said the company is always thinking of ways to provide the best offerings to its customers.
"I am always excited when we have a new program," he said. "We do a lot of new product introductions, but whenever we get to add a new program, that's always an exciting time for me."
For more on how c-store retailers are elevating foodservice, look in the May issue of Convenience Store News.