New Convenience Store Concept Rocks The Buckeye State
Get great content like this right in your inbox.
Subscribe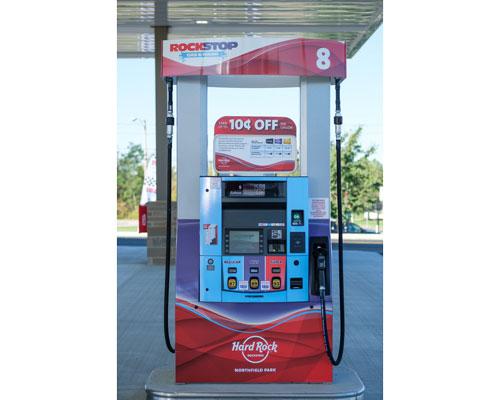 NORTHFIELD PARK, Ohio — Casino and entertainment destination Hard Rock Rocksino Northfield Park has a mission to "deliver authentic experiences that rock." Enter RockStop Gas & Wash, the first-ever Hard Rock-branded, state-of-the-art retail service station and car wash, which opened Oct. 18.
Located on the Northwest side of the Rocksino, RockStop Gas & Wash boasts 45,000 square feet of space, including a 3,500-square-foot retail store and car wash building.
The original Rocksino property opened in December 2013. As the first Rocksino in the Hard Rock family, Northfield is a regional gaming, dining and entertainment model. That's why it was fitting to develop Hard Rock International's first-ever gas station and car wash template here, Mark Birtha, president of Hard Rock Rocksino Northfield Park, told Convenience Store News.
"We are constantly looking for ways to increase the value of our loyalty program and thus, the RockStop was conceived right here in Northfield as a continuation of our mission to 'deliver authentic experiences that rock' to our Rock Star Rewards members, team members, and those in the local and regional community," Birtha explained. "Offering a one-of-a-kind gas, retail and car wash amenity with a Hard Rock flavor was the next evolution in that vision."
RockStop Gas & Wash features a number of differentiators that make it a true "Hard Rock-branded experience on all levels," the executive noted.
The facility features six double-pumps for a total of 12 handles to dispense gas. The pumps are open 24 hours a day and feature Hard Rock-style lighting effects and LED TVs that broadcast music videos and commercials.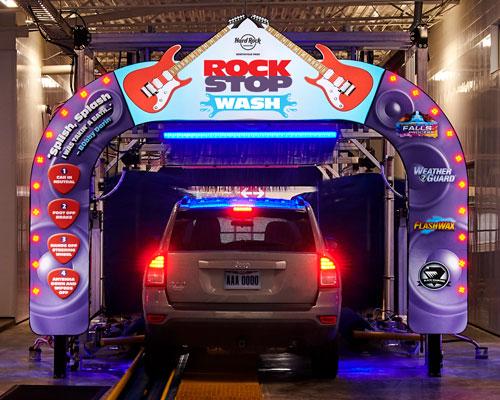 Similarly, music, lighting and signage elements that call out the Hard Rock brand are found at the car wash. Open 8 a.m. to 8 p.m., the facility offers four different wash packages.
The full-service retail store — which is open 24 hours a day, seven days a week — includes all of the expected sundries, but in a "rocking space with Hard Rock feel and flavor," Birtha said, noting that Ohio's first Pepsi Spire machine is available here, offering guests more than 180 flavor selections. Customers can also find unique Hard Rock-flavored slushies and a bevy of other food and beverage offerings. Hard Rock swag merchandise exclusive to this location, as well as RockStop pins, hats, shirts and other collectibles, are also available.
"Everyone needs a full tank of gas and a clean car — especially with our weather! — and those amenities, combined with our special retail offerings, ensure that this experience caters to and attracts patrons of all ages, backgrounds and interests," expressed Birtha. "Music is universal, and both the Hard Rock brand and the RockStop have everyone in mind."
The loyalty program available at RockStop Gas & Wash is derivative of the company's Rock Star Rewards (RSR) program. Cardholders receive automatic discounts on gas purchases determined by tier level: Rock Star members receive 5 cents off per gallon; Hall of Fame members receive 7 cents; and Legend Members receive 10 cents off per gallon.
Anyone can sign up for free membership into the loyalty program and gain benefits at the Rocksino, as well as the RockStop. Additionally, all RSR members can use their points from gaming to purchase gas and car washes, too.
"No other gaming property in the state is offering this amenity," noted Birtha. "In the future, we will be developing specific loyalty packages and promotions for RockStop users to complement the Rocksino's existing program."
For more on RockStop Gas & Wash, click here for the December issue of Convenience Store News.