04/20/2018
New Features Will Enhance Experience at 2018 Sweets & Snacks Expo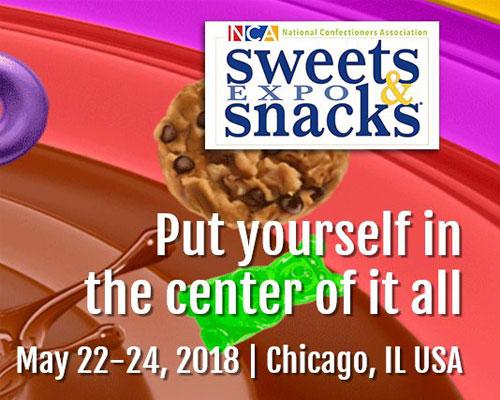 WASHINGTON, D.C. — The 2018 Sweets & Snacks Expo is introducing a host of new and enhanced features designed to maximize the show experience for candy and snack professional attendees, host National Confectioners Association (NCA) stated.
"The Sweets & Snacks Expo is committed to curating the newest and most innovative products and retail solutions for attendees, enabling them to anticipate what shoppers want with confidence," commented Barry Rosenbaum, Expo chairman and president of Nassau Candy Distributors Inc. "From exploring new and innovative products to customized learning, the Expo is crucial to any successful candy, snack or specialty professional."
New and enhanced features of the 2018 Expo include:
150-plus first-time exhibitors.

New Product Showcase featuring more than 350 of the hottest new candy, snack, flavor, product and packaging innovations.

Most Innovative New Product Awards, brought to you by IRI, will showcase more than 300 submissions of the most innovative ideas, concepts and products in candy and snacks. Awards will be given among nine categories, as well as best-in-show and small business innovator awards. All submissions will be taste-tested and evaluated by a panel of more than 20 leading retailers representing more than $15 billion in category buying power.

Enhanced Destination Retail experience, presented by WestRock, will highlight the latest technology and merchandising solutions driving shopper engagement, including hourly demonstrations.

24 educational sessions, including pre-show "Eye Opener" sessions to Discovery Theater sessions on the show floor sponsored by Barry Callebaut. Topics will explore consumer behavior, flavor trends, omnichannel, digital and multi-cultural marketing from a wide range of subject matter experts including Convenience Store News and sister publication Progressive Grocer, Pinterest, IRI and Nielsen, as well as some of the nation's leading retailers.

Newcomers will be welcomed to a morning meet-and-greet session where they'll learn how to get the most from their experience while connecting to the vast community of confectionery and snack manufacturers, retailers and distributor attendees.
The 2018 Sweets & Snacks Expo will be held May 22-24 at Chicago's McCormick Place. It will welcome more than 850 exhibitors and nearly 18,000 candy and snacks professionals.