RaceTrac Kicks Off Sodapalooza 2013
ATLANTA -- RaceTrac Petroleum Corp.'s latest promotion is helping customers cool off this summer.
The Atlanta-based retailer kicked off Sodapalooza 2013 in its Georgia, Texas and Florida convenience stores. With the new campaign, customers can purchase fountain and frozen drinks for 69 cents all summer.
In addition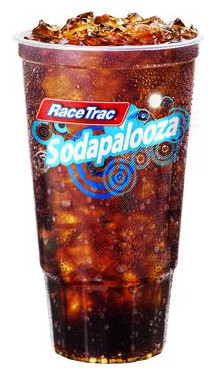 , all RaceTrac stores are unveiling a new RaceTrac Value Menu, with 12 items offered for either 99 cents or $1.99. Guests can look for the RaceTrac Value Menu signs next to select in-store offerings, such as sunflower seeds, freshly baked cookies, and select burritos and breakfast sandwiches.
"Sodapalooza is a RaceTrac fan-favorite and we invite TracFanatics to 'Join the Carbonation' again this summer," said Eric Williams, RaceTrac's vice president of category management and marketing. "To show our appreciation for our guests and team members across the Southeast, we are offering them affordable ways to cool off and fill up with their favorite Sodapalooza beverage and the newly unveiled RaceTrac Value Menu."
RaceTrac's fountain and frozen beverage selection varies by store, with most stores offering 30 fountain drinks, including Coca-Cola, Dr Pepper and Pepsi products, and eight frozen beverages, with Coke, Fanta and Dr Pepper flavor options. Guests can also mix and match their favorite flavors and customize their drinks.
RaceTrac Petroleum Corp. operates more than 360 convenience stores in Georgia, Florida, Louisiana and Texas. In January 2012, it introduced a new 6,000-square-foot store design, featuring 24-hour Swirl World frozen yogurt, fresh salads and sandwiches, up to 24 fueling stations and more than 4,000 in-store items.