RJR's Camel Snus to Debut New Look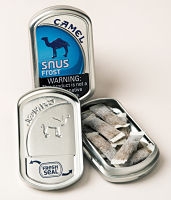 WINSTON-SALEM, N.C. -- R.J. Reynolds Tobacco Co.'s Camel Snus will show off its new Fresh Seal packaging starting Feb. 25.
The new packaging ensures the freshness and flavor adult tobacco users have come to expect from the product without refrigeration, according to a spokesman for Reynolds American Inc., parent of R.J. Reynolds. The packaging change also incorporates a thinner, easier-to-carry tin, and offers new opportunities to broaden awareness and trial among adult tobacco consumers.
Camel Snus packaging change comes as trends in tobacco use and more adult smokers look for alternatives to cigarettes.
The tobacco company began its first trial of Camel Snus in April 2006, with national distribution beginning in January 2009. Currently, several styles are offered: Winterchill, Robust, Mellow, Frost, and Mint.