Small-Formats Are Driving Both Store Closures & New Store Construction
Get great content like this right in your inbox.
Subscribe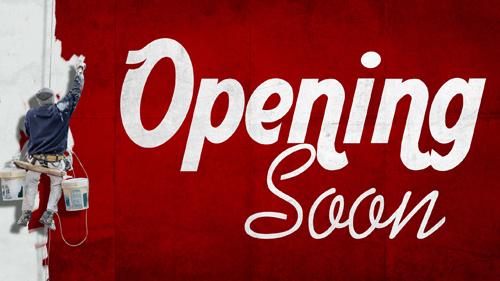 NEW YORK — The retail industry is shrinking — in more ways than one.
According to Nielsen, between 2007 and 2018, more than 27,000 new retail stores opened in the United States. However, expansion stalled between December 2017 and December 2018, as the total store count fell by 2,248.
And as overall store count decreased, the stores that were opening decreased in size — reversing a previous trend toward megastores.
The growth of small-format stores — convenience, drug and dollar stores — has been a driving force in the long-term decline of store sizes — and closures. In fact, between 2017 and 2018, convenience and drug stores were the primary drivers of retail store closings. In total, more than 3,500 retail stores closed during that period, according to Nielsen.
The research firm found that small-format stores have been gaining ground on larger stores over the past decade. In 2009, large-format size peaked at 10,516 square feet. Since then, square footage at U.S. retail stores has dropped 4.4 percent. The average size is now 10,051 square feet.
The vast majority of stores that opened between 2007 and 2018 were small format:
Dollar stores: 46 percent

Convenience stores: 25 percent

Drug stores: 16 percent
Five percent were super centers, and only 1 percent were warehouse clubs, Nielsen added.
"From a consumer demand perspective, it's clear that small formats and value players are winning in the marketplace. Convenience, drug and dollar stores have driven store count expansion since 2005, while growth across other formats has been less consistent," Nielsen said.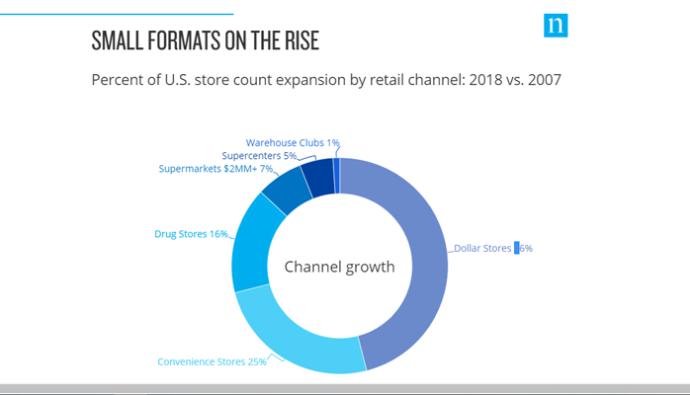 "More than 2,300 new supermarkets have come online since 2005, for example, but this channel has seen its fair share of closures, tear-downs and rebuilds as well," the research firm said, adding, that much of the growth in the supermarket channel has been driven by high- and low-end niche players like Trader Joe's, Sprout's, Whole Foods, ALDI, Lidl and Save-a-Lot.
According to Nielsen, consumer shopping trends shaping the physical store include:
Fewer full stock-ups;

More frequent trips for smaller baskets;

An abundance of choice;

Proximity to an array of options;

Increased spending on eating out; and

E-commerce.
According to Nielsen e-commerce measurement powered by Rakuten Intelligence, U.S. e-commerce sales of consumer packaged goods totaled $65.2 billion for the 52 weeks ended January 2019, up 29 percent from $50.5 billion in the previous year.
Nielsen also a 32.7-percent compound annual growth rate over the past three years.
"It's true that certain mass merchandise retailers have experienced difficulties over the past 10 years as well, but the closings associated with those difficulties have been more the result of format conversions and performance within certain companies than consumers switching to online options," Nielsen noted.