Southern Favorite Goes Retro with Can Redesign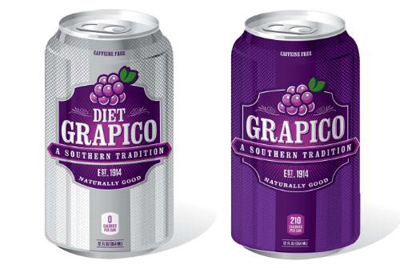 BIRMINGHAM, Ala. -- Buffalo Rock Bottling Co. is giving its Grapico and Diet Grapico products a makeover. The new look is currently making its way to convenience store shelves across the Southeast where the brand is a fan favorite.
The new packaging design -- which was developed by locally based advertising agency o2ideas -- marries Grapico's history with the increasing popularity of grape as a soft drink flavor. The beverages will now sport a new multi-hued purple emblem, product wording in a signature Southern block script, and a cluster of purple grapes at the top. The packaging redesign will be on all versions of the soft drink, including the two-liters, 20-ounce single serving bottles, 12-ounce cans and 12-pack cartons. Grapico is in purple cans and packaging, while Diet Grapico comes in white packaging. Both feature the new purple shield.
"We really wanted to splice something old with something new to create a new look for Grapico and Diet Grapico," said James C. Lee, III, chairman and CEO of Birmingham Buffalo Rock Co. "Generations of Southerners from all walks of life have grown up with Grapico. And still, it continues to grow in popularity as a great tasting, premium, full-flavored beverage at a value price."