Sprite "The Fresh Faces Series" Campaign
Cans features images of five hip-hop personalities.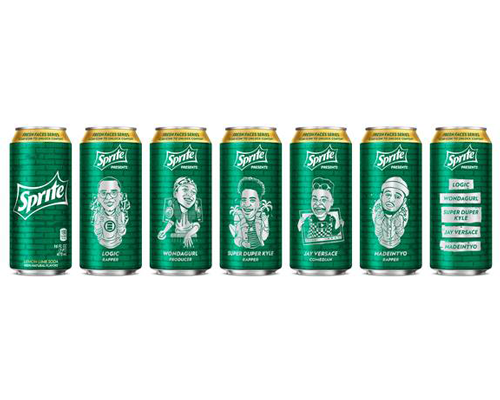 Sprite's new collection, "The Fresh Faces Series," hits shelves this month. The limited-edition series, which runs until Sept. 2, features five hip-hop personalities — rappers Logic, KYLE and MadeinTYO, social media comedian Jay Versace, and music producer Wondagurl. Fans can collect illustrated 16-ounce cans and 20-ounce bottles of the talented group. The Fresh Faces Series continues Sprite's 30-year legacy of working with artists who shape and redefine music culture. To introduce the collection, Sprite debuted a 30-second commercial starring Versace during the BET Awards. In addition to the new spot, a summerlong marketing campaign features custom live and animated video, interactive social content and live activations that bring the talent's freshness to life. Fans can also unlock unique artist content and exciting rewards through the Sprite Sip & Scan app.