Stripes Preps for Grand Opening of Newest Houston Store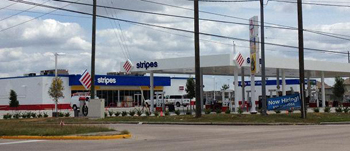 HOUSTON -- Friday the 13th will prove a good day for Stripes Convenience Stores as it marks the grand opening of its newest Houston-area location.
The latest Stripes store is located at 11530 Bammel North Houston and will offer freshly packaged Mexican food from Laredo Taco Co., Hispanic snacks and candy, and an array of cold drinks. Stripes President and CEO Steve DeSutter will officially open the convenience store with a snip of the scissors for the ribbon cutting ceremony. He will also present a donation to representatives of Step Correct Houston. The donation will be used to support the organization's Quality Education Fund, which awards college scholarships to outstanding high school students every years.
According to Stripes, the c-store retailer chose Step Correct Houston for its commitment to supporting children's health and education, and for creating a positive environment for children and adults to learn and thrive through STEP competitions, volunteer opportunities and social events.
As part of the grand opening festivities, Step Correct will perform a STEP Show. Guests at the event will also receive samples and giveaways. The events kick off at around noon.
Stripes Convenience Stores is operated by Susser Holdings Corp., a Corpus Christi, Texas-based business with approximately 1,100 company-operated and contracted locations. The company operates more than 540 convenience stores in Texas, New Mexico and Oklahoma under the Stripes banner. Susser also operates restaurant service in more than 330 of its stores, primarily under the proprietary Laredo Taco Co. brand.