Sunoco's Free Fuel 5000 Giveaway Crosses the Finish Line
LIVERPOOL, N.Y. – Sunoco Inc. revealed the winner of its 2013 Free Fuel 5000 promotion. Lisa Chapman won 5,000 gallons of gasoline, accepting her prize on Nov. 8 at an event in the Liverpool, N.Y., APlus convenience store.
Chapman entered the contest on Aug. 12 when the Sunoco decal on her car was spotted at the Taft Road Sunoco in Syracuse. She instantly won a Sunoco gift card, two 3-D movie upgrades to see DreamWorks Animation's Turbo in theaters, and was entered into the random drawing for the grand prize of 5,000 gallons -- enough gas to last a typical driver eight years.
Sunoco's Director of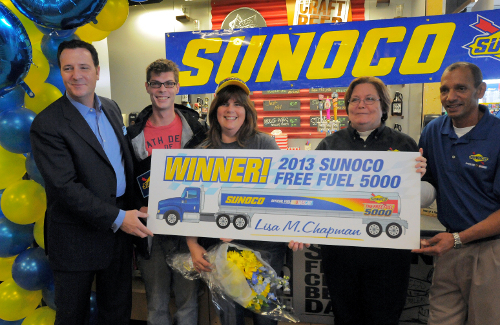 Retail Operations John Zeidler presented Chapman with her winnings in the form of gift cards worth $20,000, which can be used for gasoline or items for sale at Sunoco convenience stores. In addition, Sunoco spotters were on hand at the Liverpool store, giving away gift cards to the first 100 drivers displaying a Sunoco decal between noon and 1 p.m.
"We are thrilled by the support from loyal Sunoco drivers every time we spot them visiting our retail locations with the decal," said Drew Kabakoff, director of brand marketing.
More than 7,000 Sunoco customers won prizes over the two-month course of this year's Free Fuel 5000, Sunoco's signature promotion, according to the announcement.
Sunoco owns, operates and/or supplies roughly 5,000 retail fuel outlets in 25 states, including its signature APlus convenience stores.