'Taste NY' Adds to Portfolio With Latest Thruway Location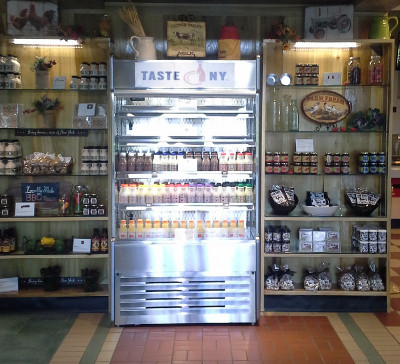 ALBANY, N.Y. -- Stores highlighting the best New York State has to offer continue to pop up along the New York Thruway.
According to New York Gov. Andrew Cuomo, the newest Taste NY store is now open for business. The outlet is located at the Chittenango Service Area in Canastota. This is the second location on the New York State Thruway to offer Taste NY products year round. In addition, four new Taste NY storefronts carrying "made in New York" products at Thruway Travel Plazas are now open in Clarence, Pembroke, Seneca and Scottsville.
"With Taste NY, we are giving New Yorkers and visitors alike more opportunities to buy our state's homegrown products," Cuomo said. "The food, beverages and condiments our farms and businesses produce are now being sold all along the Thruway, one of our state's largest and busiest highways. This provides a new market for many our state's local businesses and lets drivers taste the best New York has to offer."
Taste NY is a key component of the nearly $60-million plan to grow New York industries, create jobs and attract even more visitors to the state while promoting New York grown or produced products. Cuomo launched the tourism campaign in his 2013 State of the State address, as CSNews Online previously reported.
A selection of New York State products, including maple syrup, yogurt, cheese and other products, is available for purchase at the Chittenango Service Area inside the service area's Travel Mart convenience store under the Taste NY banner. The four additional Taste NY storefront displays are also up and running at the other travel plazas, according to the governor's office.
"The Thruway is pleased to open yet another location that offers Taste NY products," said Thruway Authority Executive Director Thomas J. Madison. "These products will be directly marketed to the thousands of people who travel [Interstate] 90 in central New York every day. We look forward to continue being a partner in the Taste NY program as we look to expand it to even more of our service areas in the future."