Terrible Herbst Uses Technology to Boost Toy Drive Donations
Get great content like this right in your inbox.
Subscribe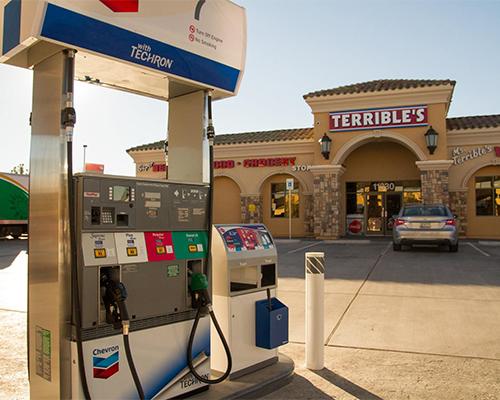 LAS VEGAS — Terrible Herbst Inc. achieved a record-setting donation to the 19th Annual 98.5 KLUC Chet Buchanan Show Toy Drive with the help of Gilbarco Veeder-Root's Impulse countertop merchandising platform and its Passport point of sale (POS) system.
This year's drive, which began Nov. 30 and ended Dec. 11, raised $49,000 in total, a 6.5-increase over 2016.
Customer reactions during the toy drive also increased from 2016. Last year, customers reacted to Impulse's donation feature (as measured by interactions) 80,000 times. That level increased 21 percent in 2017 to 96,642 interactions.
Impulse is a basket-based, suggestive selling solution that uses behind-the-scenes technology to display relevant offers, games, programs (such as the toy drive) and surveys to customers before, during and after checkout, according to the company.
It integrates seamlessly with the Passport system and the store's price book to power an automated upselling feature that generates displays at the checkout counter to increase basket size and overall sales.
Terrible Herbst programmed Impulse to prompt shoppers to donate $1, $2 or $5 to HELP of Southern Nevada, which helps coordinate and distribute donations for the toy drive.
"We're finding more and more ways to use Impulse," said Mark Walters, Terrible Herbst vice president of sales and marketing. "It's really versatile. While it helps generate incremental in-store sales, it also helps us support our civic goals by allowing us to give back to our community in a more efficient, measurable and significant way. Of course, the generosity of our customers is extraordinary. We couldn't do it without them and the technology simply facilitates the process."
The 2016 toy drive was the first year the convenience store chain used Impulse to prompt and tabulate donations, resulting in an increase from previous years when cashiers had to ask for donations. Impulse carried more of the transactional burden by speeding up the process and enabling cashiers to focus on customer interaction.
 "Impulse helps c-stores engage with customers in a variety of ways," said Eric Bagden, director, retail solutions, Gilbarco. "In tandem with our Passport POS system, Impulse allows c-stores to grow their business, build brand loyalty, and gain and utilize insights to customer wants and needs. Impulse gives retailers another touchpoint to reach their customers, consistently with every transaction, and we're always pleased when businesses like Terrible Herbst use the power of Impulse to help others in its communities."
More than 250 lanes of Impulse are currently installed across Terrible Herbst's network.
Las Vegas-based Terrible Herbst operates more than 150 c-stores, car washes and oil change stations across Nevada, California, Arizona and Utah.