Thanksgiving 2017 Travel Volume to Be Highest in a Dozen Years
Get great content like this right in your inbox.
Subscribe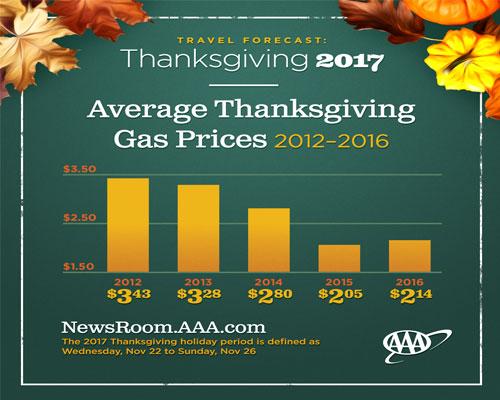 ORLANDO, Fla. — This Thanksgiving, 50.9 million Americans will venture 50 miles or more away from home, a 3.3-percent increase over the last year, AAA projects.
The Thanksgiving holiday travel period is defined as Wednesday, Nov. 22, to Sunday, Nov. 26. This holiday weekend will see the highest Thanksgiving travel volume since 2005 with 1.6 million more people taking to the nation's roads, skies, rails and waterways compared with last year.
AAA and global transportation analytics company INRIX predict travel times in the most congested cities in the U.S. during the holiday week could be as much as three times longer than the optimal trip.
"Thanksgiving kicks off the start of a busy holiday season, and more thankful Americans will travel to spend time with friends and family this year," said Bill Sutherland, AAA senior vice president, Travel and Publishing. "A strong economy and labor market are generating rising incomes and higher consumer confidence, fueling a strong year for the travel industry, which will continue into the holiday season."
According to AAA, Thanksgiving travel forecasts by the numbers are: 
89 percent of travelers (or 45.5 million) are planning a Thanksgiving road trip, an increase of 3.2 percent over year.

Consumers will pay the cheapest average airfare since 2013.

The largest holiday travel growth is by air travel, at 5 percent with 3.95 million travelers.

Travel by trains and other modes, including buses and cruises, is expected to increase 1.1 percent to 1.48 million travelers.

Drivers will pay the highest Thanksgiving gas prices since 2014.

Car rental daily rates will hit a five-year holiday high at $70 per day, which may be due to an increase in domestic demand and cost of newer vehicles.
While AAA expects most U.S. drivers will pay the highest Thanksgiving gas prices since 2014, the vast majority of holiday travelers (89.3 percent) are still planning to hit the road. Automobile travel will grow by 3.2 percent this Thanksgiving, with 45.5 million Americans planning a holiday road trip. This November's national average price is $2.54, which is 37 cents more than last Nov. 1 through Nov. 14.
Many travelers will seek theme-park and warm-weather destinations this Thanksgiving. Both Orlando, Fla., and Anaheim, Calif., top this year's top 10 holiday destinations based on AAA.com bookings. Compared to previous years, New York City, Las Vegas and San Francisco are gaining popularity as holiday spots.  
Orlando, Fla.

Anaheim, Calif.

New York

Honolulu

Las Vegas

Punta Cana, Dominican Republic

Cancun, Mexico

San Francisco

Kahului, Maui, Hawaii

Fort Lauderdale, Fla.