TPE 2018 Spotlights Alternative Tobacco as Segment Grows
Get great content like this right in your inbox.
Subscribe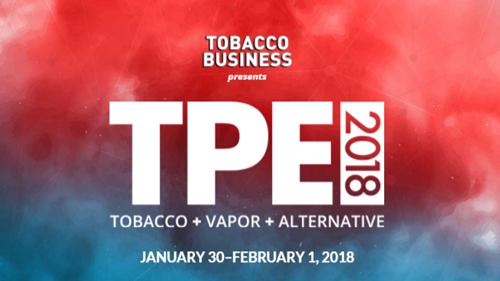 LAS VEGAS — Changes behind the backbar will be reflected at Tobacco Plus Expo (TPE) 2018.
TPE 2018 features many returning vendors with successful products to sell, while 33 percent are new merchants — many offering the latest releases in the growing alternative categories, like cannabis accessories, vapor and hookah products.
"As the alternative industry is growing, retailers are tapping into a whole new consumer base," said Jason Carignan, chief marketing officer of Kretek International Inc. "The TPE team recognized this potential source of growth for our retail customers, and assembled a solid representation of top vendors, fresh products, and educational information to service this market. We are confident that attendees will benefit from the show, as will their end customers."
TPE 2018 will be held Jan. 30-Feb. 1 at the Las Vegas Convention Center. The annual event offers a diverse roster of industry speakers, discussing topics like growth and navigating current and forthcoming legislation.
Catering to the expanding alternative category, a collaborative Vapor-specific session is scheduled for the second day of the event on the show floor, and will also be available for no additional charge.
The idea-exchange aspect of TPE 2018 continues with networking in the Slackline Lounge on the show floor. Attendees will be able to mingle and sample wares with vendors and distributors. The lounge will also feature craft beer, a DJ, a performer, and a slackline.
"We've planned TPE 2018 to give retailers the opportunity to put their best foot forward in 2018," Ben Stimpson, managing director of Tobacco Media Group, the parent company of TPE. "From a show floor full of in-demand, on-trend products and exclusive show specials, to conference tracks offering new tricks of the trade and networking spaces that allow everyone to relax, blow off some steam, and enjoy the industry that we all love being a part of. This year's show is truly going to be an amazing one, and we invite you to be a part of it."
This coming year, the National Association of Tobacco Outlets (NATO) is aligning with TPE 2018 to bring its industry outlook to the tradeshow's attendees. The association will present the NATO Industry Outlook on Jan. 30, as CSNews Online previously reported.
Under the banner of Tobacco Media Group owned by Kretek International, TPE is the largest business-to-business tobacco trade show highlighting tobacco, vapor, alternatives and general merchandise products available on the ever-evolving market.