TravelCenters of America to Debut TA Express in Late Summer
Get great content like this right in your inbox.
Subscribe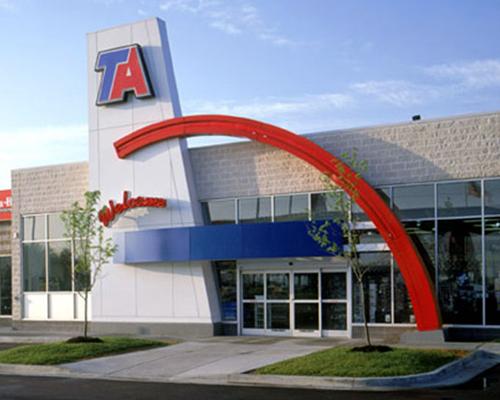 WESTLAKE, Ohio — TravelCenters of America LLC, the nation's second-largest chain of travel centers, is targeting late summer for the launch of three to four new, smaller travel centers called TA Express.
The smaller-format stores will range in size from 10,000 to 15,000 square feet, about half the size of TravelCenters' traditional sprawling locations, whose main buildings average between 20,000 and 30,000 square feet.
The smaller concept will allow TravelCenters to open stores on potentially profitable sites formerly deemed too small for the company's full-size travel centers, President and Chief Operating Officer Barry Richards said in an interview with Convenience Store News.
"TA Express allows us to fill in some holes on secondary routes that can't accommodate a full-size TA travel center," said Richards. "We've spent years looking for sites and had to pass on sites we thought were too small."
Richards was quick to point out that even at half the size of traditional full-size TA travel centers, TA Express will still be the same size or bigger than other travel centers operated by most of the major competing travel center chains.
TA Express will also benefit from customers' familiarity and loyalty to the TA name, and offer the same branded diesel and gasoline choices, product mix, services and "high-bar" restrooms as the retailer's full-size locations.
UltraOne, TravelCenters' loyalty platform for professional drivers, will be available at TA Express, which will also offer food and beverage counter service with one or two of the company's quick-service restaurant (QSR) partners. The new builds will also have a deli counter for hot, fresh, grab-and-go prepared food. Unlike its full-size travel centers, though, TA Express will not have sit-down restaurants.
TA Express will have no impact on the company's existing chain of Minit Mart convenience stores, which currently number 231 standalone units, Richards told CSNews.
Growth Through Franchising
In addition to the launch of the TA Express brand, franchising will play an important role in the growth of TravelCenters of America.
The company currently operates 179 TA travel centers, 14 of which are franchised. It also operates 77 Petro Stopping Centers, 13 of which are franchised.
"We think franchising is a good way to grow the brand," said Richards, who added that both current franchisees and new operators are candidates to open franchised units.  
"This is a complicated business," he acknowledged. "We're dispensing diesel fuel and gasoline. We operate all our QSRs ourselves. We have full-service restaurants, vehicle repair and emergency roadside assistance. But, when managed well, this can be a lucrative business."
The TA Express concept will be offered to prospective franchisees as well.
Sales Growth & Challenges
Richards also told CSNews that he expects TravelCenters to see sales growth in both diesel fuel and gasoline, while inside sales will be driven by growth in grab-and-go food, followed by beverages.
In terms of alternative fuels like natural gas and electric vehicle charging, Richards said TravelCenters is well-positioned with its many large locations to capitalize on these alternatives when and if a market develops for them.
"Right now, there is not an infrastructure in place for most of these alternatives, particularly electric," he noted.
As for roadblocks to growth, Richards views government intervention in payroll policies as the biggest obstacle.
"It's getting harder and harder to staff these jobs," he said, citing cities and states imposing minimum wage increases, abolishing tip credits, and passing other restrictive regulations like penalties for not giving employees enough advance notice of their work schedules.