TravelCenters of America Sees Lift From New Services & Initiatives
Get great content like this right in your inbox.
Subscribe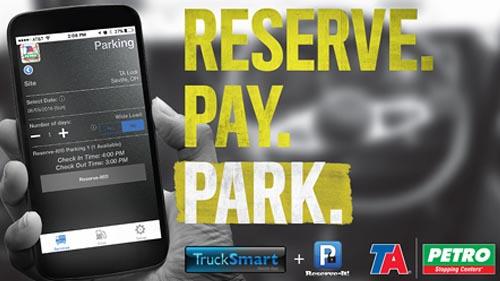 WESTLAKE, Ohio — TravelCenters of America LLC's rollout of services and initiatives designed to retain traditional travel center customers — and attract new ones — is paying off.
The company's reported financial results for the first quarter of 2018 included a net loss of $10.1 million and EBITDA of $20.4 million, compared to a net loss of $29.4 million and EBITDA of negative $9.5 million in the first quarter of last year.
Adjusted EBITDA decreased $600,000 compared to the same period in 2017 driven primarily by a decline in fuel gross margin, an increase in real estate expense, and an increase in selling, general and administrative (SG&A) expenses.
However, despite the slight decline in adjusted EBITDA, CEO Andrew Rebholz said during TravelCenters' Q1 earnings call on May 7 that "we continue to see positive signs in our operating results that indicate our plans are working." 
He pointed to four factors that bolster his outlook: 
1. The same-site fuel sales volume change for the first quarter showed improvement compared to the trends seen over the past two years, due to a stronger freight environment that TravelCenters believes led to increased demand for fuel. Additionally, fuel pricing efforts and marketing strategies have positively affected TravelCenters' share of total demand.
2. Same-site nonfuel revenue increased 2.7 percent while same-site nonfuel margins increased 4.5 percent as the company's business initiatives in its travel centers segment continue to gain traction. This includes truck service, parking and fuel marketing programs.
3. On a consolidated basis in the first quarter, the company saw increases compared to the prior year of 5 percent in total tire unit sales, 44 percent in on-site mobile maintenance work orders, 9.7 percent in RoadSquad roadside assistance work orders, and 51.2 percent in Reserve-It! parking reservation revenue.
The Reserve-It! parking revenue growth was a significant acceleration from the 2017 fourth quarter, growing by 33.5 percent.
"The federal ELD [electronic logging device] mandate took effect in December and enforcement began in April. We see the mandate increasing the demand for truck parking generally, and believe the ability to secure a parking spot ahead of time to ensure compliance with federal hours of service requirements will continue to appeal to a growing number of drivers who see this as a tool to help them maximize their driving time and their earnings," Rebholz explained.
4. The consolidated site-level operating expense ratio to nonfuel sales for same sites improved 90 basis points despite a competitive labor market.
"We are seeing the merits of a multi-year project to install a new restaurant management software that has allowed managers to better forecast sales and staff accordingly," Rebholz said. "We saved approximately $500,000 compared to the same period last year as a result of implementing that IT application."
TravelCenters is also seeing savings from a site accounting function centralization project. In the first quarter, this initiative generated savings in site-level operating expenses of $246,000 while costing the company $127,000 in SG&A expenses.
"That does not sound like much," he said, "but I will point out that by March 31, we were at about only 8 percent complete with this project, which we expect will generate net annual cost savings of approximately $6.5 million when fully implemented."
Travel CenterS Segment Up Close
Specifically in the company's travel centers segment (separate from its convenience store segment), TravelCenters saw positive signs in Q1, including stronger freight trends compared to the same period last year and an ability to manage fuel sales profitability by balancing volume and pricing, resulting in overall fuel sales volumes that were slightly positive and same-site fuel sales volumes that were only slightly negative, down 0.6 percent compared to the first quarter of last year.
"Our efforts to further our fuel marketing program and sell combined services are proving successful," reported President and Chief Operating Office Barry Richards.
Notably, fuel sales volume for TravelCenters' top 10 accounts was up nearly 2 percent. Truck service sales for the top 10 accounts were also strong, increasing 11 percent vs. a year ago. 
Travel center volumes trended upward in January and February, but were down in March compared to the same months of 2017, mainly due to significant winter storms and the timing of the Easter holiday.
"We are making progress with our efforts to combat fuel efficiency headwinds in the travel centers segment through expanding the universe of customers to whom we market, and to market more deeply to existing customers," Richards said.
TravelCenters gained some traction in marketing a broader array of its products and services to existing customers during Q1. In its on-site truck service program, work orders were up 44 percent vs. the same quarter of 2017.
Other highlights in the on-site truck service program were:
March was the first month TravelCenters began operating a standalone facility in Indianapolis to meet demand for mobile maintenance services from existing and new customers;

Work orders almost doubled in March from February, and each week in March continued to break prior-week sales records; and

One large fleet — an existing TravelCenters customer that historically fueled with the company and used it for in-bay truck service — has grown to become one of the company's top 10 largest on-site accounts, increasing its total truck service purchases by 10 percent.
As for TravelCenters' commercial tire network, Richards explained, "One of our goals when we launched this initiative was to ensure we are providing the breadth of tire products and services our customers require today because we believe customers look to consolidate their purchases with fewer suppliers whenever possible." 
Since launching the initiative in November 2016, the company has operated without the benefit of its own tire retreading capabilities. But that is about to change. TravelCenters recently agreed to purchase a tire retreading plant for $2.7 million and expects to begin operations in the third quarter of 2018 as an authorized Goodyear retread tire dealer.
Meanwhile, efforts to expand TravelCenters' customer base continue, and the company is seeing "good sales" of on-site mobile maintenance solutions to non-traditional customers, Richards noted.
Looking at the company's TA Restaurant Group, efforts to accommodate changing consumer preferences in the full-service food area continue. In the first quarter, the company had four casual-dining restaurants that were closed for rebrandings or conversions to quick-service restaurants (QSRs).
In 2018, the restaurant group expects 11 restaurants in total will be closed for similar reasons during parts of the year. 
"Typically, we have seen good results from these rebranding and conversion projects, including average revenue increases of about 10 percent, along with increased profitability," Richards explained. "All these efforts are lowering nonfuel sales in the near term, but they should enhance profitability over the long term."
Travel CenterS Segment by the Numbers
Fuel sales volume in the travel centers segment increased by 1.5 million gallons, compared to the first quarter of 2017. Same-site fuel sales volume decreased by 2.8 million gallons, primarily due to a decline in diesel demand driven by the continued effects of fuel efficiency gains and increased competition. Bad weather in certain regions also contributed, according to William Myers, chief financial officer.
Fuel gross margin increased $20.5 million, or 33.2 percent, to reach $82.4 million, primarily as a result of a $23.3-million benefit recognized in the first quarter in connection with the February retroactive reinstatement for 2017 of the federal biodiesel tax credit. The increase also resulted from newly acquired and developed locations, partially offset by fuel pricing headwinds due to competition and a more favorable fuel purchasing environment in the first quarter of 2017, Myers explained.
Nonfuel revenues in the travel centers segment grew 5.1 percent, primarily due to a 3.9-percent increase on a same-site basis that was led by the company's truck service and parking programs. This increase was lessened by a decrease in foodservice revenue due to a reduction in operating hours at certain restaurants. 
"The reduction in operating hours — or, in some cases, closures of certain restaurants — was a conscious effort to increase profitability as the cost to operate certain of these restaurants during the applicable hours did not exceed the gross margin they generated," Myers explained.
Nonfuel gross margin percentage was 61.8 percent, compared to 61 percent in the 2017 first quarter. Of the $15.4-million increase in nonfuel gross margin this quarter, truck service contributed $6 million, according to the CFO.
Site-level gross margin in excess of site-level operating expenses increased by $31.5 million, or 34.1 percent, in the first quarter compared to the same quarter last year — of which $23.3 million related to the biodiesel credit. The remainder was driven by new sites and an increase at same sites.
Travel CenterS Segment Growth
Currently, the company does not have solid plans for growing its travel centers portfolio, according to Rebholz.
The chief executive took over the position when former TravelCenters CEO Tom O'Brien retired Dec. 31. Rebholz's move from executive vice president, chief financial officer and treasurer shuffled the deck even further with Richards and Myers also moving up the ladder to their new positions.
The new management team, Rebholz explained, has been focused on growth since taking the reins and is considering all avenues of growth: new builds, acquisitions and franchising.
"We've been continuing those plans and getting ourselves ready to hit the ground on the implementation of those plans, but right now we have no specific plans or acquisition targets," he said. "I'm hopeful that when we're having the same call in the next quarter, we will have more to tell the world about implementation of those plans."
Westlake-based TravelCenters of America's nationwide business includes travel centers in 43 U.S. states and Canada, standalone convenience stores in 11 states, and standalone restaurants in 13 states. Its travel centers operate under the TravelCenters of America, TA, Petro Stopping Centers and Petro brand names. Its convenience stores operate principally under the Minit Mart brand name. Its standalone restaurants operate principally under the Quaker Steak & Lube brand name.