TravelCenters of America at a Pivotal Time, CEO Says
Get great content like this right in your inbox.
Subscribe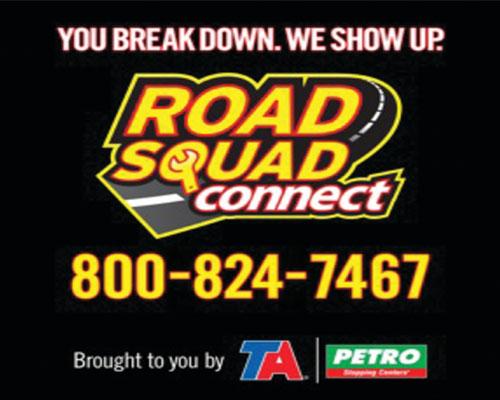 WESTLAKE, Ohio — When TravelCenters of America LLC (TA) kicked off its fiscal fourth-quarter 2017 earnings call on Feb. 28, it did so with a new leader at the helm.
Andrew Rebholz, a 20-year company veteran and TA's previous executive vice president, chief financial officer and treasurer, took over as CEO after former President and CEO Thomas O'Brien resigned from his role effective Dec. 31.
"I am excited to be in this position and part of the team we have assembled to lead TA during what I believe is a pivotal time for our company, given our recent management changes and our ongoing plans for improving our financial results by taking advantage of the market expansion opportunities we see for our business, our other growth programs, and our operational improvement plans," Rebholz commented.
Despite reporting losses for the quarter, company executives highlighted several positive signs that TA is on the right trajectory. For instance, according to Chief Operating Officer Barry Richards, TA's fuel business closed the gap vs. the prior year in fuel sales volumes, partly due to successful contract negotiations with traditional large trucking fleets. TA also made improvements by turning its attention to pursuing smaller and local regional trucking fleets that, at aggregate, added significant fuel sales volumes.
Additionally, in its Truck Service business, TA's RoadSquad OnSite and Commercial Tire Network operations are experiencing success with tire deliveries, and performing inspections and repairs for auction houses and used truck dealers. Currently, TA services approximately 85 companies in taking calls and dispatching service trucks for roadside repair through its RoadSquad division.
TA expects to launch a proprietary certified Inspection Service during the first quarter of 2018, which will ensure trucks are DOT-certified prior to resale and "give buyers some peace of mind," Richards shared. 
Looking at TA's six largest aggregator accounts and its six largest fleet accounts, the company collectively saw fuel volumes improve by 2.8 percent during the quarter; sales of tire units increase 15 percent; and overall truck service revenue reach double-digit growth compared to Q4 2016.
Other initiatives cited by company execs include:
In the company's Retail Operations business, TA is focused on growing its Reserve-It! parking business. The program allows drivers to be more efficient with their time, maximizing their legal driving hours and ultimately becoming more profitable, according to the COO.

In the 

TA Restaurant Group, the company is adding national brand full-service restaurants with traditional hours, in addition to fast-food conversions. 

Richards noted that consumer preferences are changing and TA is "absolutely changing to keep up," but this

 can frequently cause declines in revenue while the conversions are taking place.

 

In Q4 2017, 12 of TA's casual-dining restaurants were closed due to rebranding, conversion or permanent closure. In 2018, TA expects the same for 11 locations. 
Meanwhile, combating increased competition remains a focal point for the company. During the first three quarters of 2017, 12 competitor sites opened within a 50-mile distance of an existing TA or Petro location, Richards reported. Diesel volumes decreased in the fourth quarter by approximately 1 million gallons collectively at these affected locations compared to the same period in 2016.
"The competitive sites that are opening are smaller and don't have the full truck service, foodservice, parking or the customer service as a typical TA/Petro, but a brand-new site can appeal to drivers, particularly early on," Richards acknowledged. "We have done some remodeling and adjusted pricing to combat the competition at these locations."
Q4 BY THE NUMBERS
TA reported a net loss of $20.6 million for the fourth quarter and EBITDA of $17.4 million. This compares to a net loss of $6.5 million and EBITDA of $24 million for Q4 2016.
As Rebholz pointed out, TA's fourth-quarter results "were impacted by a number of items that affect comparability with prior-year amounts and I believe distract from the successes TA achieved in our operations in the 2017 fourth quarter." 
Items affecting comparability included $6.9 million of expenses related to asset impairments and writeoffs; a $6.4-million income tax expense resulting from the new tax legislation; approximately $6.3 million of missing tax credit benefits as a result of the biodiesel blenders' tax credit not being enacted during 2017; and $1.1 million of expenses related to retirement agreements with former officers.
Among the successes, according to Rebholz, were:
Travel center segment nonfuel revenues grew by 2.7 percent.

Increases of 6.8 percent in tire unit sales; 50.6 percent in RoadSquad OnSite mobile maintenance work orders; 6.1 percent in RoadSquad roadside assistance work orders; and 20.1 percent in Reserve-It! parking reservations.

Site-level gross margin in excess of site-level operating expenses in the c-store segment grew by 2.7 percent and by 1.9 percent on a same-site basis.
Cost-reduction initiatives TA began in the first half of 2017 also resulted in approximately $4.6 million of savings in the fourth quarter. Many of these cost reductions were implemented during the second and third quarters and Rebholz expects some incremental savings in 2018 as well. 
Westlake-based TA's business includes travel centers in 43 U.S. states and Canada, standalone convenience stores in 11 states, and standalone restaurants in 13 states. TA's travel centers operate under the TravelCenters of America, TA, Petro Stopping Centers and Petro brand names. TA's convenience stores operate principally under the Minit Mart brand name. Its standalone restaurants operate principally under the Quaker Steak & Lube brand name.