Twice Daily Serving Up 'Truly Healthy Foods'
Get great content like this right in your inbox.
Subscribe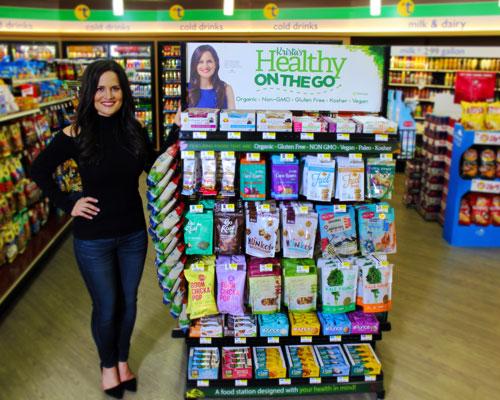 NASHVILLE, Tenn. — Twice Daily Convenience Stores, owned and operated by Tri Star Energy LLC, has amped up its consumer image by offering foods that are "truly healthy" — not just foods that are "healthier for you."
"The biggest thing for our industry is that consumers want healthier food options," said Terry Messmer, sales manager for the chain of approximately 47 convenience stores in Tennessee and Kentucky. "Consumers don't always act on what they say, but we've found that there is a feel-good benefit from offering truly healthy foods."  
Three years ago, Lisa Pickett Lem, Twice Daily's food and dispensed beverage category manager, began working with The Partnership for a Healthier America (PHA), a nonpartisan, nonprofit group led by health and childhood obesity advocates. Lem, who has a background in nutrition, partnered with PHA because it shares the same vision of fresh.
A short time later, Twice Daily was contacted by Krista Anderson, founder and CEO of ESSTAR, a Nashville-based natural food brokerage company. Anderson, who started the company after a long but successful bout with stage 2 cancer in 2007 and stage 4 cancer in 2009, has made it her mission to make healthy snack foods accessible through her "Krista's Healthy On The Go" food stations in convenience stores. The endcaps, placed in a prominent position in the store, include Anderson's photo, along with signage touting the healthy benefits of the snack offering on display.
"Krista's Healthy On The Go" food stations feature foods that are organic, gluten-free, non-GMO, vegan, paleo and kosher, and include such brands as Veronica's Health Crunch, Angie's Boomchickapop Go Raw, Rhythm Superfoods, Bounce, and more.
Messmer noted that the carefully curated selection includes many brands that are produced by mom-and-pop companies. "These are not the typical national brands with slightly better-for-you characteristics," he said. "These are truly healthy foods that you'd more likely find in a Whole Foods store than a convenience store."
Selling these products reinforces Twice Daily's image of having quality food and helps the retailer meet its promise to The Partnership for a Healthier America. "Once a year, we get audited on the commitments we make to PHA," Lem explained.
Twice Daily, which owns and operates convenience stores and supplies fuel to retail dealers in Tennessee, Kentucky, Georgia and North Carolina, is one of at least nine convenience channel retailers and distributors currently participating in PHA. Other retailers include Cumberland Farms, Framingham, Mass.; Kwik Trip, La Crosse, Wis.; Sheetz, Altoona, Pa.; Loop Neighborhood, Fremont, Calif.; U-Gas, Fenton, Mo.; Enmarket, Savannah, Ga.; Ricker's, Anderson, Ind.; and Aloha Petroleum, Honolulu. Participating distributors include McLane, Core-Mark and ESSTAR.
Twice Daily "still sells everyday items, but the overall healthfulness and quality of our food offering has expanded our customer base," according to Lem.
Krista's Story
At 21 years old, Anderson was diagnosed with cancer — for the second time. The first tumor had been found when she was 19, requiring the removal of one of her kidneys. After refusing postoperative chemotherapy, her health improved steadily for two years, until her doctor pronounced her with Stage 4 cancer and three months left to live.
Doing her best to eat healthy foods that would give her body the best chance of survival, Anderson eventually underwent chemotherapy for more than a year before finally having her second major surgery, losing two-thirds of a lung.
Inspired by her illness and journey back to health, she knew her life could serve a greater purpose. One major issue she recognized while trying to survive between hospital visits was the impossibility of finding food that was healthy, affordable and fast.
Instead of life-giving foods, the vast majority of what was available to her (and that she could afford) were carb-heavy, chemical-rich and sugar-laden foods that she knew weren't going to help her on her journey to a healthy life, she recalled.
Four years after her final cancer surgery, Anderson founded ESSTAR and developed "Krista's Healthy On The Go" food stations, specifically designed for convenience stores to use as end-of-the-aisle displays and at checkout stations.
She spent countless hours crafting a product line that would cover a huge variety of dietary needs while also supporting reputable companies and maintaining low price points. Most of the items in a "Krista's Healthy On The Go" display contain less than 10 ingredients, and all of them are ingredients you can pronounce and use in your own kitchen.
Why convenience stores? "Access is key," according to Anderson. "Everyone should have access to healthier foods — no matter their income or location."
Since launching at six stores, ESSTAR has expanded to 200-plus locations.
Prior to founding ESSTAR, Anderson worked in marketing for Nestle Professional, assisting in building the company's foodservice beverage portfolio.