Under New Management, Newcastle Brown Ale Unveils New Look & Growth Plan
Get great content like this right in your inbox.
Subscribe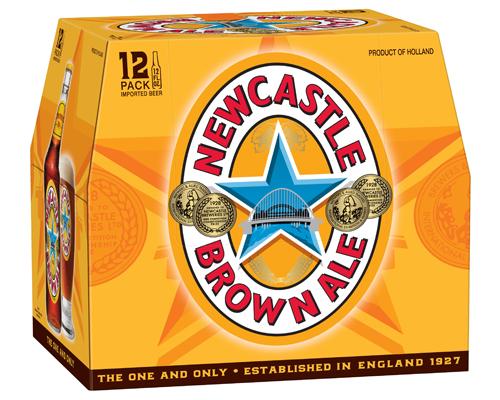 WHITE PLAINS, N.Y. — Newcastle Brown Ale unveiled a new localized plan for growth in the United States under management of the Five Points Trading Co.
The new roadmap with Five Points Trading, a Heineken venture aimed at incubating a range of premium global beer brands in the U.S., comes as Newcastle Brown Ale also debuts a fresh look.
Newcastle Brown Ale's new primary and secondary packaging highlights the vibrant gold, blue and orange colors of the brand identity, resulting in improved visibility on the shelf, on display and in the cold box.
In addition, Five Points is reducing the number of SKUs available to focus sales and marketing efforts against the brand's core retail and on-premise formats, according to the brand.
To coincide with the debut of Newcastle Brown Ale's new look, production of Newcastle Brown Ale has officially moved from the John Smith's Brewery in the United Kingdom to the Zoeterwoude Brewery in Holland.
"Moving production of Newcastle Brown Ale to Holland makes sense for our distributor partners and our consumers alike. The move allows us to improve service levels including shorter order lead times, faster transportation to the U.S. and fresher product for our consumers," explained Charles Littlefield, general manager, Five Points Trading Co.
"Despite the move, Newcastle Brown Ale fans can rest assured that the original recipe has not changed guaranteeing them the best, freshest quality Newcastle Brown Ale they love, every time, whether purchasing at retail or at their favorite local bar or restaurants," he added.
The move also allows the company to shop Newcastle Brown Ale from Heineken demand points, which allows distributors to order by the pallet vs. the container, according to Littlefield.
"This means Newcastle Brown Ale orders can be combined with other demand point portfolio products including Heineken, Amstel, Strongbow, Red Stripe, Tiger, Birra Moretti, Murphy's Irish Stout and Affligem. The result; fresher product available on a more timely basis," he said.
Under Five Points management, Newcastle Brown Ale's commercial priorities will shift to a hyper-local focus, concentrating efforts and resources against the greatest local market opportunities where current and high potential Newcastle Brown Ale consumers live.
"At Five Points, our agility, entrepreneurial spirit and hyper-local focus is ingrained in our mindset and behavior making us bigger than we are in our key battleground markets," said Amy Tay, brand director for Five Points. "For Newcastle Brown Ale, that means going back to basics to drive consideration and trial through non-traditional and grassroots platforms. We're excited to unveil our 2018 programming in the coming months."