VUSE Sets Course to be Market Leader in E-Cig Category
WINSTON-SALEM, N.C. -- To some, three months may not be enough time to test the waters with a new product. However, for R.J. Reynolds Vapor Co. (RJRV), it was enough time to know it had a winner on its hands with its new digital vapor cigarette VUSE.
Stephanie Cordisco, president of RJRV, a subsidiary of Reynolds American Inc. (RAI), sat down with CSNews Online at last month's NACS Show in Atlanta -- only 12 weeks after VUSE had hit retail outlets in Colorado -- and revealed that the company was preparing to bring the product national "as soon as possible." More details are expected at RAI's Investor Day on Nov. 18.
"Colorado wasn't a test market; it was the first of our launch," Cordisco explained, adding that RJRV is focusing its energy on learning from its Colorado foray and formulating a plan to leverage those learnings into a national rollout.
"We have all intentions to be running national as soon as possible," she said. "The results in Colorado have been phenomenal. They have exceeded our expectations. We can't be more pleased with what we are seeing. This has been one of the most successful launches we have ever had, with the highest level of both clerk and consumer advocacy."
First Stop: Colorado

Hitting Colorado back bars first was no accident. The Winston-Salem, N.C.-based tobacco company chose the Centennial State to debut VUSE because there is an established electronic cigarette category in the state with a lot of consumer trial. With that also comes strong legislation regulating the category, such as banning the sale of e-cigarettes to minors.
In addition, RAI already has a strong distribution channel in Colorado -- a state with a high chain-to-independent ratio.

Stephanie
Cordisco
"We believe our key partners will be instrumental in this category. One of the things this category needed was education. I like to say it is like taking a product that should be in a Best Buy and putting it into a convenience store. Clerk advocacy and clerk education are critical," said Cordisco.
"Today in the e-cig category, smokers are confused. The consumer has to work really hard," she continued. "We needed to ensure that we had partners that were behind it, would support it and drive education. We also thought VUSE needed to be merchandised in a place smokers are used to shopping, which is the back bar. We wanted a permanent presence, a permanent home for VUSE in the store."
Key to this is the VUSE education center, a countertop display that provides information on the product to help adult consumers shop the category. However, as Cordisco pointed out, the display is not self-serve and VUSE cannot be removed from it.
The display educates consumers on the emerging e-cigarette category and also details what sets VUSE apart from its competitors behind the back bar.
By Design

RJRV calls VUSE a digital vapor cigarette rather than an electronic cigarette, although it does fall under the e-cigarette classification. The distinction lies in the mechanics behind VUSE. The product contains a microprocessor in the power unit and a smart chip in the cartridge, which communicate with each other to ensure that every puff the user takes delivers the same amount nicotine, taste and quality every time.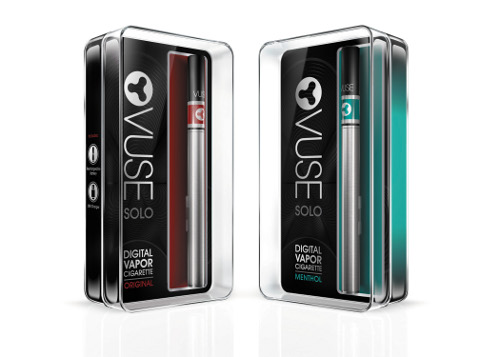 The software also lets the user know when the battery needs to be charged or the cartridge needs to be replaced, Cordisco added.
"One of our key design strategies on VUSE was ensuring the user experience is as simple as possible. We designed VUSE with SmartLight technology, which helps the smoker know and anticipate the experience, both when the cartridge and the battery are getting low," she explained. "All this is done to make it easy for an adult smoker to fully switch from their combustible cigarette to VUSE."
VUSE can now be found in every store in Colorado where RAI has a cigarette contract. The brand's current retail portfolio includes VUSE Solo, VUSE System and VUSE cartridges. VUSE Solo, the flagship product, includes a rechargeable power unit, a cartridge and a USB charger. VUSE System is the deluxe-kit version of the VUSE Solo. It includes additional cartridges, a wall charger, a USB charger and a fully assembled digital vapor cigarette.
In addition, adult consumers can go online to order other accessories, such as a carry case.
Price is Right

Although VUSE is rechargeable, it is priced similar to a disposable e-cigarette, Cordisco told CSNews Online.
"We don't want price to be a barrier to trial for smokers. Making it simple to switch by including the USB charger in our Solo unit, and by ensuring our cartridges have a favorable price gap to cigarettes only encourages smokers to switch as they can save a significant amount of money a year compared to what they spend on average with their combustible products," she explained.
Early results in Colorado indica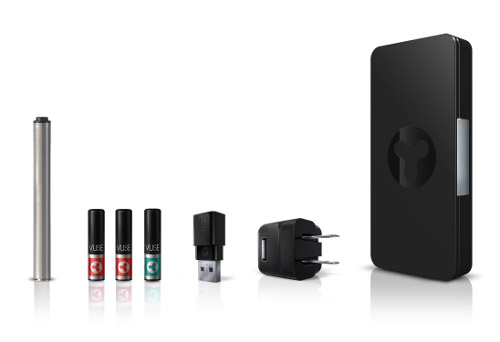 te consumers are recognizing the value equation on VUSE.
"They realize quickly that they can buy current disposables on the market for the same price, or they can buy ours and get a superior vapor experience and it's rechargeable. All they have to do is buy cartridges," she said. "Our cartridges are now our No. 1-selling SKU, representing more than 60 percent of our portfolio mix. That tells us we are achieving conversion."
RJRV is utilizing television, print media, customer engagement, retail trade engagement, direct mail, email, online banners and public relations to get the word out about VUSE. But in all those vehicles, according to Cordisco, the company is applying the same restrictions and composition it applies to the cigarettes category. For example, it runs ads in print publications where it can verify 85 percent of the readership is 21 years or older. RJRV applies the same determination to TV and website advertising.
"Although the e-cigarette category does not have the same marketing restrictions as the cigarette industry as of yet, we are operating in a highly responsible manner and operating as if we do have marketing restrictions because it is the right thing to do," she noted. "We know how to operate in a highly restrictive environment."
Glimpses of the Future

As for the future of the back bar, the future is now as retailers are beginning to carve out dedicated space for e-cigarette and OTP fixtures.
"Customers are already driving the industry there. Cigarettes are losing share on the back bar. More modern, smoke-free products are starting to take more space," Cordisco said, citing e-cigarettes and moist tobacco as part of that migration.
"I don't know if electronic cigarettes, in the next few years or five years, will ever have the type of broad assortment that we have in cigarettes," she added. "But I think we will continue to see within the e-cigarette back bar space, multiple brands dominated by a few key brands -- similar to what you see in cigarette industry where a few brands pretty much own the fixture space."
While time will tell which brands come out as winners, there is no doubt RJRV and its parent company expect VUSE to secure a firm place in the standings.
"We have goals of market leadership and goals to be a big fish in a big pond. We want to see this category grow beyond the one share it is at today," Cordisco said.