07/18/2018
Wawa Adds Uber Eats Delivery Option to More Locations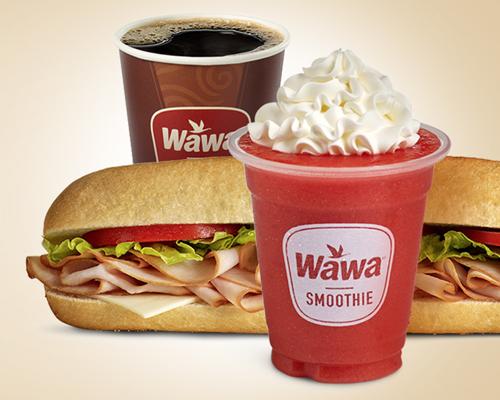 WAWA, Pa. — Wawa Inc. is adding Uber Eats as a delivery option at eight convenience stores in Pennsylvania, Florida and Washington, D.C.
Customers will be able to order most of Wawa's foodservice products, as well as a limited number of beverages, chips, candy and desserts.
The locations adding Uber Eats are:
Store #8071 

— 

1300 E. Ridge Pike, 

Plymouth Meeting, Pa.

Store #66 

— 

195 West Lancaster Ave., 

Ardmore, Pa.

Store #247 

— 

518-520 South 2nd St., 

Philadelphia

Store #5189 

— 

3501 Millenia Blvd., 

Orlando, Fla.

Store #5145 

— 

11750 University Blvd., 

Orlando, Fla.

Store #5107 

— 

11510 North 30th St., 

Tampa, Fla.

Store #6001 

— 

1111 19th St. NW, 

Washington, D.C.

Store #293 

— 

19 Bishop Ave., 

Clifton Heights, Pa.
The Clifton Heights, Pa., and Washington, D.C., stores will be the first to offer Uber Eats.
"We are delighted to add Uber Eats delivery service to our offering at these eight locations, making ordering Wawa products faster, easier and more accessible than ever," said Steve Hackett, delivery project manager for Wawa. "Since we began piloting delivery service last fall, feedback from customers on this added convenience has been extremely positive.
"We're thrilled to reach even more customers in our marketplace through our partnership with Uber Eats, a technology our customers are already using. It's exciting to get even closer to our goal of offering delivery to one-quarter of our stores by year's end," he added.
Wawa first began offering delivery at select Pennsylvania stores through a partnership with GrubHub in 2017, as Convenience Store News previously reported.
The c-store chain is continuing to gather internal and external feedback from customers and employees to help ensure the delivery process is as smooth and seamless as possible, the company said.
Since the initial pilot, delivery of Wawa products has been the most popular on weekends and during the dinner daypart. Customer favorites include Wawa macaroni and cheese, hoagies, soups and sides.
"It's our mission to make food delivery an everyday thing. We're excited to help connect Wawa with new customers and deliver classic favorites like Cheesesteak Hoagies and Handcrafted Beverages — all at the speed of Uber," said Liz Meyerdirk, global head of business development for Uber Everything.
Customers new to Uber Eats can receive free delivery on their first meal from Wawa by using the promo code WawaUberEats.
Pennsylvania-based Wawa operates convenience stores in Pennsylvania, New Jersey, Delaware, Maryland, Virginia, Florida and Washington, D.C. It opened its 800th store on May 24 in Wilmington, Del.