Wawa Says Hello to Washington, D.C.
Get great content like this right in your inbox.
Subscribe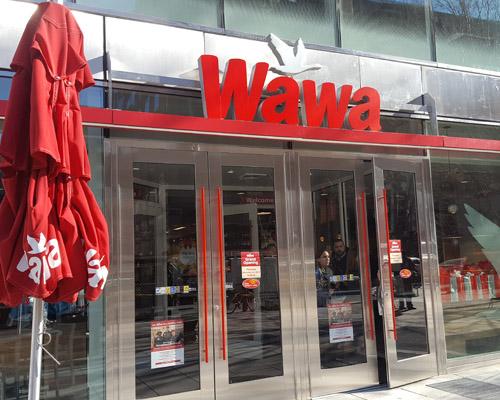 WASHINGTON, D.C. — The temperature outside may have dipped to the coldest so far this season, but that didn't keep guests from taking a sneak peek at the District's newest convenience store: Wawa.
The Pennsylvania-based retailer held a "Taste of Wawa" preview event on Dec. 13 that included a store tour and food and beverage tastings — yes, Wawa's famous hoagies were front and center.
Wawa's first Washington, D.C. location officially opened its doors at 8 a.m. Dec. 14, with a ribbon-cutting ceremony held at 9 a.m. When guests walked in, they saw something they have never seen before: a 9,200-square-foot Wawa store.
Located at 1111 19th Street NW, the store is more than double the size of a typical Wawa, which measures anywhere between 3,500 and 4,000 square feet.
The retailer's first Washington, D.C. location also stands out for being a non-gas location, in an industry that sells 80 percent of the gas sold in the United States.
With more than 9,000 square feet to work with, Wawa found a lot of room to boast new features — like an interactive social media board and touchscreen order kiosks located throughout the store, not just at the foodservice station — and offer Wawa's newest foodservice initiatives, including built-to-order salads and nitro cold brew coffee.
"As you can tell, we are really excited. It's finally here," John Sharpless, director of store operations, said at the preview event. "We're thrilled to bring this unique mix of quality and what we call 'convenience' to the residents and visitors of the District with a unique kind of restaurant-style location created specifically for the District and the D.C. customer."
Other store highlights include:
Indoor and outdoor seating;

Floor-to-ceiling windows;

Free Wi-Fi;

Free air for bicycles; and

An open kitchen concept. 
This store not only gives Wawa a large canvas to display its offerings, but also an opportunity to welcome customers in the nation's capital into the Wawa family.
"At Wawa, we take great pride in building family bonds with our customers. We remember their names and their favorite things that Wawa has to offer," said Mike Davis, area manager, calling out several customers who have become family like Aaron Huertes, who started a petition to help open a Wawa in Washington, D.C. "We heard you loud and clear, Aaron, and we are very happy you started that."
With the store's grand opening coming during the holiday season, Wawa themed the event around fighting hunger. "Fighting hunger has been one of the major areas of focus companywide," Davis said.
Wawa incorporated its commitment to fighting hunger into the 19th Street store's grand opening with a "Lending a Helping Hoagie" campaign to fight hunger. Wawa is donating a portion of hoagie sales from the new store — up to $5,000 — to the Capital Area Food Bank.
In addition, the Wawa Foundation is presenting the Capital Area Food Bank with a $10,000 grant to help it launch a sustainable "Fresh Community Market" initiative as part of its Family Market program.
The latest Wawa will also participate in the retailer's annual Checkout Hunger in-store fundraising campaign, during which customers can donate $1, $3 or $5 at the point-of-sale to benefit food banks throughout the retailer's six-state footprint.
"I know many of you have been waiting for this day and believe me, everyone at Wawa has been, too," Sharpless said.
Wawa has a second Washington, D.C. convenience store currently under construction in Georgetown.