Wayne Launches New Fuel Dispenser Line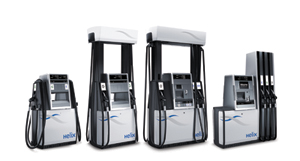 AUSTIN, Texas -- Wayne has debuted the Helix fuel dispenser line, which it says is a "global platform on which all future Wayne dispenser models will be based."
Introduced were the Helix 2000, Helix 4000 and Helix 5000, which offer an universal design; high-contrast, ergonomically designed displays; expanded branding and signage areas; and modular compartments that lock independently, according to Wayne
"The Helix fuel dispenser line represents the best of everything Wayne has to offer. From the excellence of our global engineering teams to our collaboration with IDEO [a global design and innovation consultant], this is a unique family of dispensers designed and engineered based on feedback from retailers and their customers all over the world," said Neil Thomas, Wayne global president. "The Helix dispenser is the fuel dispenser redesigned and reconceived -- from the inside out and from the bottom up."
Wayne also announced it would launch a fourth Helix fuel dispenser, the Helix 6000, in 2013.
The three current Helix models will be on public display at several trade shows during the next few months, including the NACS show in October.
Austin, Texas-based Wayne is a GE Energy Business.