05/09/2018
7-Eleven & Jones Soda Expand Regional Big Gulp Flavors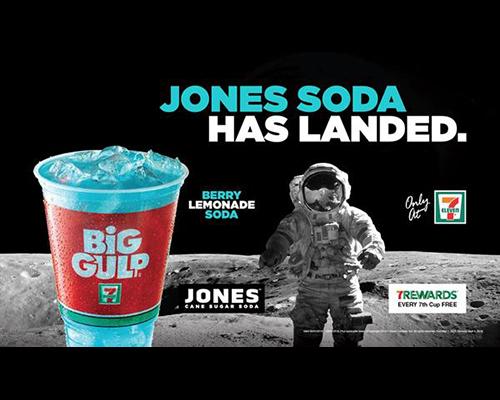 IRVING, Texas — 7-Eleven Inc. and Jones Soda Co. are expanding the number of convenience stores that carry regional Big Gulp flavors created by the innovative soda company.
Customers at more than 1,000 7-Eleven stores in northern California and Canada can now enjoy exclusive Jones Soda flavors at the Big Gulp fountain. Previously, these proprietary beverages were only available at participating 7-Eleven stores in Oregon and Washington state.
Flavors vary by region. At participating stores in the Pacific Northwest and northern Canada, the exclusive featured Big Gulp flavor by Jones is 7-Select Blueberry Lemonade; in the Pacific Northwest, the iconic Jones Blue Bubblegum flavor will be available at the Slurpee machine; and in Canada, the signature Jones Berry Lemonade flavor is available at the Big Gulp fountain at participating stores.
"Introducing more Jones cane sugar beverage options sets 7-Eleven apart in its ambitious efforts to showcase craft beverages," stated Jones Soda CEO Jennifer Cue. "Thanks to 7-Eleven, our craft sodas are now available in bottles, on the fountain and as everyone's favorite frozen drink. Having launched Jones in Vancouver, Canada, over 20 years ago, we are especially excited to be able to finally answer our fans' call to bring Jones to soft drink fountains across Canada."
The expansion builds on the companies' previous collaboration. In 2016, five flavors of 7-Eleven's bottled 7-Select brand premium sodas crafted by Jones debuted nationally as the retailer's first premium, private brand carbonated beverage. In 2017, Jones-created flavors became available at Slurpee and Big Gulp machines in the Pacific Northwest.
"7-Eleven proprietary beverages, including the 7-Select brand, are all about quality, fun and unexpected flavors. Jones, along with its fun flavors and unique brand personality, is a great fit for all of our cold beverage platforms," said Jacob Barnes, 7-Eleven senior category manager.
7-Eleven and Jones Soda will release new limited-time 7-Select flavors throughout 2018.
Based in Irving, 7-Eleven operates, franchises and/or licenses more than 66,000 stores in 17 countries, including 11,600 in North America.