01/15/2020
Casey's Puts Heart at the Center of Its Enhanced Brand Platform
NEW YORK — Casey's General Stores Inc. is taking steps to not only boost its customer experience, but also enhance its overall brand.
The changes are part of the convenience store retailer's new strategy, which Casey's executives outlined during its 2020 Investor Day, held Jan. 9 in New York.
According to Chris Jones, senior vice president and chief marketing officer, Casey's is implementing a consumer-centric enterprise strategy to positively impact its business moving forward. With a goal to reinvent the guest experience, the chain wants to make its customers' needs the foundation of this new strategy.
To that end, Casey's has identified five essential guest needs:
Digital connectivity;

A compelling store experience;

Delicious food and beverages on the go;

Affordable choices; and

Favorite and new items being always available.
Compelling Store Experience
Over the past few years, the atmosphere, perception and experience in-store have become key drivers of guest preference in the industry, according to Jones.
"Feeling comfortable in the store and feeling like the store is part of the community have risen above all other drivers of guest choice in our markets," he explained.
As such, the company identified that a strategic core of its brand is that Casey's is "the heart of every community that it is in," Jones said. Working with New York-based creative agency Schafer Condon Carter, the retailer created the "Casey's: Here for Good" campaign.
The campaign leverages three core truths about Casey's:
Casey's offers good products to meet guests' needs;

Casey's is doing good in the community; and 

Casey's isn't going anywhere.
To convey the new brand messaging, the chain is involving all of its experiences and touchpoints, including signage, website, mobile app, packaging and the new Casey's Rewards program, which rolled out in early January.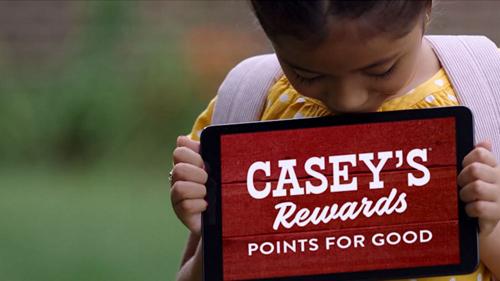 Digital connectivity
"Our business has made a major commitment to winning in the digital space and setting the pace among convenience operators for digital engagement," Jones said. "No other convenience retailer has the basis for as true of an omnichannel experience as Casey's has. Our food program gives us a strategic advantage and a leaping-off for our omnichannel engagement."
Casey's digital transformation, which was part of its 2018 value creation plan, is already underway. Within the past 10 months, the retailer has implemented several digital initiatives — ranging from guest-facing to operational — including a new website and mobile app, and an order management system.
This foundation is now serving as an accelerator for the next wave of Casey's digital capabilities. "This is just the start of our digital efforts," said Jones. 
The launch of its first-ever loyalty program, Casey's Rewards, is the biggest element in this next phase of its digital journey.
According to Jones, its digital platform stands ready to move toward even more incremental drivers of growth. For example, Casey's will pilot a partnership this month with DoorDash in one of its markets, and is in discussions with Uber Eats about a similar pilot.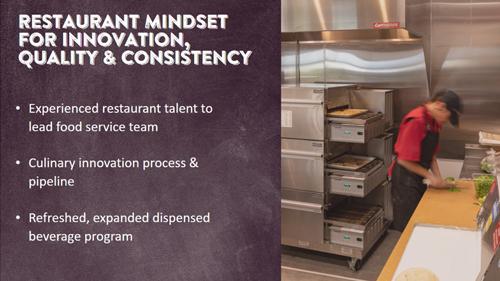 Delicious food & beverageS on the go
Casey's needs to continue developing its capacity to deliver delicious food and beverages on the go to exceed its customers' expectations, Tom Brennan, senior vice president and chief merchandising officer, shared during Investor Day. 
For example, the retailer sees an opportunity to refresh and expand its dispensed beverage program.
Overall, accelerating its food and beverage platform will be centered around instilling a "restaurant mindset" in its approach to innovation, quality and consistency.
The right talent with the relevant experience will allow Casey's to begin executing against a culinary innovation pipeline, Brennan explained.
Affordable Choices
Although Casey's already has a private label brand, the retailer sees an opportunity to expand its line of products.
"While we have enjoyed the ability to maintain premium pricing on signature items like our famous pizza, we know that we have to expand the amount of affordable choices for our guests," Brennan said. "Financial pressures are real across our guest base, and we know we have to work diligently and creatively to strengthen our overall value proposition."
The challenge is to maintain and enhance overall margins while providing affordable choices, he pointed out.
Favorite & new items being always available
Complementing the shift to a restaurant mindset and expansion of its private label brand, Casey's plans to continue winning with assortment by keeping top sellers in stock, while introducing new innovative items.
To help drive this focus, the retailer is building out its merchandising team to focus on understanding its guests' needs and how best to meet them, according to Brennan. 
Ankeny, Iowa-based Casey's operates more than 2,000 convenience stores in 16 states.
This is the second article in a four-part series on Casey's 2020 Investor Day.