Circle K Global Rebranding on Pace to Finish in 30 Months
Get great content like this right in your inbox.
Subscribe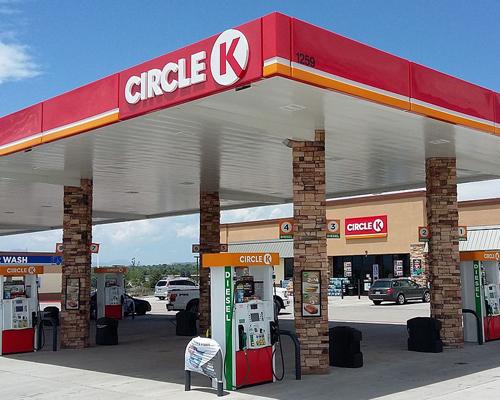 LAVAL, Quebec — Three years ago, Alimentation Couche-Tard Inc. unveiled a new look for its Circle K brand and revealed that it was making Circle K its global brand, kicking off a massive rebranding initiative on the part of the convenience store retailer.
The new global Circle K brand is replacing Couche-Tard's existing Circle K, Statoil, Mac's, Kangaroo Express and Corner Store branding on stores and service stations across Canada, the United States, Scandinavia, and Central and Eastern Europe, as Convenience Store News previously reported. It will also appear on licensed stores across Asia and be a fundamental part of Couche-Tard's future growth, according to the company.
The work to bring the new Circle K brand across the globe continues to progress, with more than 3,650 sites in North America and more than 1,700 sites in Europe now completed.
The retailer is on track to finish the initiative in the next two and half years, Couche-Tard President and CEO Brian Hannasch reported during the company's latest earnings call.
"The timeline has been a little bit of a moving target as we acquired CST [Brands] and Holiday [Cos.], and a few other companies since we started the program. But our current projections are to finish in about 30 months," he said during the company's first-quarter earnings call, held Sept. 6.
In Europe, all of the Statoil sites are fully rebranded; however, Couche-Tard's automated brand, Ingo, remains.
According to Hannasch, Ireland is the last remaining market in its European network to undergo the rebranding. In that country, Couche-Tard has brought the new Circle K banner to approximately 50 of the retailer's sites thus far.
"In Ireland, the rebranding work continued at a fast pace this quarter and the plan is to rebrand close to 350 sites in fiscal 2019, with the remainder in fiscal 2020," he said. "Our grand openings in that country have been very, very strong and the Circle K sites are outperforming the old Topaz-branded sites in all main categories of fuel, traffic and merchandise."
In all, the rebranding efforts are about 80 percent completed in Europe to date, Hannasch reported. 
"In Canada, we are keeping the Couche-Tard brand in Quebec. For those sites we will rebrand, we are about 54 percent done," the chief executive added. "In the U.S., we have about 49 percent complete — so about half there as well — with the focus this year on the CST sites."
He noted close to 300 CST sites are now rebranded to Circle K. "In Texas, the work is quickly progressing with the kind of big campaign and customer acceptance we would expect in the state of Texas," he shared.
The efforts appear to be paying off. Overall, Couche-Tard has seen incremental growth in traffic, sales and volume. The results vary depending on the nature of the market and the launch, Hannasch explained.
"The rebrand has been very positive over the past quarters in Europe and that's despite implementing a brand-new brand into the market that nobody had ever heard of," he said. "Our teams have done a great job of launching the brand there.
"In other markets, it really depends on the strength of the brand and where the site is vs. being in a new market. In an existing Circle K market, with Arizona being an example, the rebrands of Corner Stores to Circle K have been very strong — double-digit growth — as people immediately know that we have Polar Pop and other unique offers," he continued.
As of July 22, Laval-based Couche-Tard's network comprised 9,978 convenience stores throughout North America, including 8,691 stores with road transportation fuel. Its North American network consists of 19 business units, including 15 in the U.S. covering 48 states and four in Canada covering all 10 provinces.
In addition, through CrossAmerica Partners LP, Couche-Tard supplies road transportation fuel under various brands to approximately 1,300 locations in the U.S.
In Europe, Couche-Tard operates a broad retail network across Scandinavia, Ireland, Poland, the Baltics and Russia through 10 business units. As of July 22, Couche-Tard's European network comprised 2,723 stores, the majority of which offer road transportation fuel and convenience products, while the others are unmanned automated fuel stations that only offer road transportation fuel.
In addition, under licensing agreements, more than 2,000 stores are operated under the Circle K banner in 16 other countries and territories, which brings the worldwide total network to more than 16,000 stores.