08/17/2018
Circle K & Monster Beverage Launch Ultimate Fan Sweepstakes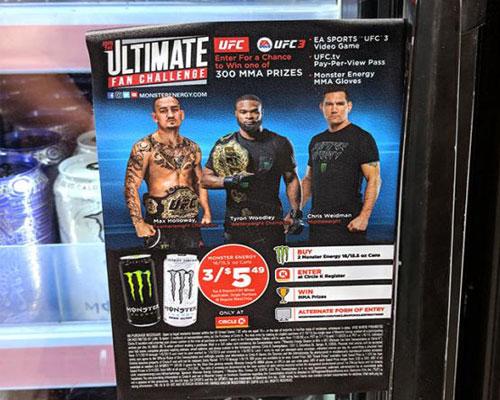 TEMPE, Ariz. — Circle K Stores Inc. is the exclusive sweepstakes sponsor for Monster Beverage Corp.'s Ultimate Fighting Championship.
The "Ultimate Fan Challenge" sweepstakes will award 300 winners with a copy of EA Sports' "UFC 3" game for Microsoft's Xbox One console, a pair of Monster Energy-branded mixed martial arts gloves, or a uff.tv pay-per-view pass, Convenience Store News sister publication Shopper Marketing reported.
From July 1 through Jan. 6, 2019, shoppers can enter by purchasing two 15.5-ounce or 16-ounce Monster Energy SKUs and entering their phone number when prompted at checkout.
An ad within Circle K's mobile app and in-store cooler clings tout the sweepstakes. The promotion items feature mixed martial artists Max Holloway, Tyron Woodley and Chris Weidman.
Circle K and Monster Energy teamed up earlier this year for another MMA-related sweepstakes, awarding one winner the chance to hang out with UFC fighter Donald "Cowboy" Cerrone, as Convenience Store News previously reported.
PepsiCo's Gatorade is also running a sports-themed sweepstakes at the convenience store chain, awarding one grand-prize winner with box seat tickets to a game in the 2018 Major League Baseball World Series presented by YouTube TV.
From July 1 through Aug. 26, customers can enter by purchasing two 28-ounce Gatorade SKUs and either submitting their phone number when prompted at checkout, or tapping a "claim the deal" button for the sweepstakes found within the retailer's mobile app to obtain a time-sensitive barcode to scan at checkout.
Convenience Store News and Shopper Marketing are properties of EnsembleIQ.