03/06/2018
Convenience Store News Top 20 Growth Chains Keep Growing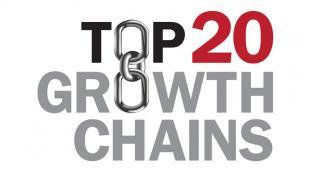 Congratulations to Alimentation Couche-Tard for once again topping our exclusive 2018 Convenience Store News Top 20 Growth Chains ranking. The Canada-based retailer, which operates the Circle K chain in the United States and globally, was also the top growth chain in 2016 following its acquisition of The Pantry.
This past year, Couche-Tard added more than 1,000 stores to its location count with its acquisitions of Holiday Stationstores, CST Brands, and Jet-Pep.
Perhaps more impressive, though, is Andeavor, the San Antonio-based retailer formerly known as Tesoro. Andeavor registered the second-highest net store count increase on this year's ranking and the highest percentage gain in the industry, nearly doubling in size. Andeavor swallowed up last year's top growth chain, Western Refining, in a monster deal, proving that being a consolidator doesn't protect you from being consolidated yourself (as retailers like CST Brands and The Pantry can attest).
Meanwhile, GPM Investments, the top percentage gainer in 2014 and last year's No. 2 top growth chain, had an impressive increase of 84 net new stores to rank third on our 2018 list — and that doesn't include the pending close of its deal to buy the 282-store E-Z Mart chain.
And Kwik Trip had its best store-growth year ever via both acquisition (34 PDQ convenience stores) and organic growth (new builds) to secure fourth on this year's roster.
As in past years, the CSNews Top 20 Growth Chains ranking is dominated at the top by large, acquisition-minded consolidators, like the companies above. Scattered among these consolidators are a group of strong regional players that have increased store count considerably through organic growth, such as Casey's General Stores, Wawa, Love's Travel Stops, Murphy USA, QuikTrip, Sheetz and Maverik.
Even these regional powerhouses are huge retailers, ranging in size from more than 2,000 stores to about 300. Meanwhile, midsize chains of between 50 and as many as 200 stores are getting squeezed by these large players. 
Growing a successful midsize chain in today's hotly competitive market is challenging. Even though the market for acquisitions is still favorable (at least until interest rates start to creep higher), midsize chains are at a disadvantage against their larger rivals who have deeper pockets and are willing to pay historically high multiples to seal a deal.
We've seen the disappearance of scores of midsize chains over the past few years, but all is not lost for the medium-sized player. There are still more than 75 chains with store counts of between 50 and 300 stores, and for the ones that really want to compete, these are still good times for growth. They just have to be smart about where they do battle, take good care of their employees, and develop strong relationships with their customers and local community.