11/05/2018
Dollar General Gearing Up for Expansion of DGX Small-Format Concept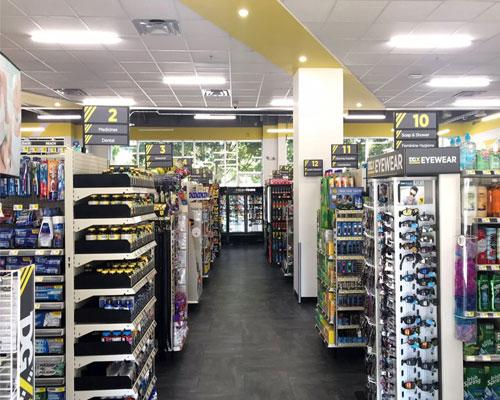 GOODLETTSVILLE, Tenn. — Dollar General Corp. is gearing up for expansion of its DGX small-format concept, as the discount retailer puts urban, millennials shoppers at the focus of its growth.
DGX clocks in at about half the size of Dollar General's regular 9,000-square-foot store. So far, the retailer operates three locations: one in Philadelphia's Northern Liberties neighborhood; one in Raleigh, N.C.; and the original DGX that opened in Nashville, Tenn., in 2017.
Dollar General Corp. CEO Todd Vasos sees a huge opportunity in urban, millennial shoppers, who are starting to settle down and look for reliable, affordable places to shop. While the company is doing fine without the demographic — same-store sales have increased for 28 consecutive years — Dollar General needs to win in cities to achieve his goal of opening another 13,000 U.S. stores on top of the existing 15,000, according to a report from Bloomberg.
About a third of the company's locations are currently in metro markets, and are moving toward 40 percent. Dollar General continues to open its standard stores at a furious pace, with a record 1,315 last year in 2017, but is deliberately taking it slow with DGX.
"With only three, we're just cautiously optimistic about what that could do, but we're also learning at the same time," Vasos said in August.
While Dollar General has long catered to sparsely populated rural areas, the company is betting that millennials like a good deal like everyone else, Bloomberg reported. According to data tracker The NPD Group, three out of four millennials shop at dollar stores already, even higher-earning ones.
Recently, Vasos called millennials "an emerging and important part of our customer base" who "will help us broaden our appeal to attract a new segment of urban customers."
However, a market cannot be built out of urban hipsters alone, according to John Strong, a finance and economics professor at the College of William & Mary who studies dollar stores. To succeed, DGX will have to lure a broad swath of shoppers, he explained.
Dollar General faces entrenched competition in urban markets, from c-store and drug chains to rival discounters like Family Dollar, which already has many stores in cities. In Northern Liberties, there's a Family Dollar just up the street from the DGX.
"DGX wants to capture the people who don't like the vibe of a dollar store," stated Matt Ruben, president of the Northern Liberties Neighbors Association, a community group.
Competition aside, Dollar General will find it tougher to turn a profit in cities thanks to higher real estate, labor and logistics costs, the news outlet reported. The company's operating margins are already under pressure, having narrowed by a full percentage point over the past two years as sales of less profitable perishable food has increased.
What could also hurt DGX is the increasing tendency of busy urbanites to shop online for everyday essentials, skipping stores altogether. Dollar General has lagged behind rivals in e-commerce because its typical shopper spends only about $12 per visit, which is well below the $35 threshold that Walmart and other retailers require to make delivery economical.
For now, DGX's convenient locations, broad product assortment and painless shopping experience provide a buffer against the online threat. "Online is a secondary concern at best," Strong added.
Goodlettsville, Tenn.-based Dollar General operates 15,000 retail stores and 15 distribution centers in 44 states.