Federal Regulators Crack Down on Companies Over E-Liquid Packaging
Get great content like this right in your inbox.
Subscribe
SILVER SPRING, Md. — The Food and Drug Administration (FDA) and the Federal Trade Commission (FTC) issued 13 warning letters to manufacturers, distributors and retailers for selling e-liquids used in electronic cigarettes with marketing materials that underage consumers may find appealing.
According to the FDA, the letters were aimed at those with labels and/or advertising resembling kid-friendly food products — like juice boxes, candy or cookies — and some with cartoon-like imagery.
The two agencies also cited several of the companies for illegally selling the products to minors.
"No child should be using any tobacco product, and no tobacco products should be marketed in a way that endangers kids — especially by using imagery that misleads them into thinking the products are things they'd eat or drink. Looking at these side-to-side comparisons is alarming," said FDA Commissioner Scott Gottlieb.
"It is easy to see how a child could confuse these e-liquid products for something they believe they've consumed before – like a juice box. These are preventable accidents that have the potential to result in serious harm or even death," he added. "Companies selling these products have a responsibility to ensure they aren't putting children in harm's way or enticing youth use, and we'll continue to take action against those who sell tobacco products to youth and market products in this egregious fashion."
According to the FDA, examples of the products outlined in the warning letters, and being sold through multiple online retailers, include:
"One Mad Hit Juice Box," which resembles children's apple juice boxes, such as Tree Top-brand juice boxes;

"Vape Heads Sour Smurf Sauce," which resembles War Heads candy; and

"V'Nilla Cookies & Milk," which resembles Nilla Wafer and Golden Oreo cookies.
"Protecting young children from unwarranted health and safety risks is one of our highest priorities," said Acting FTC Chairman Maureen K. Ohlhausen. "Nicotine is highly toxic, and these letters make clear that marketing methods that put kids at risk of nicotine poisoning are unacceptable."
Late last year, the FDA began investigating tobacco product labeling and advertising that causes the tobacco products to imitate food products, particularly those that are marketed toward, or appealing to, children. The products noted in the warning letters are considered misbranded in violation of the Federal Food, Drug, and Cosmetic Act because their labeling and/or advertising imitating kid-friendly foods is false or misleading.
The FTC joined the FDA on the warning letters under Section 5 of the Federal Trade Commission Act, which prohibits unfair or deceptive advertising.
The FDA and the FTC have requested responses from each of the companies within 15 working days. The companies are directed to inform each agency of the specific actions taken to address each agency's concerns. The warning letters also state that failure to correct violations may result in further action such as seizure or injunction.
The warning letters issued today are just one aspect of the FDA's Youth Tobacco Prevention Plan, designed to limit youth access to all tobacco products.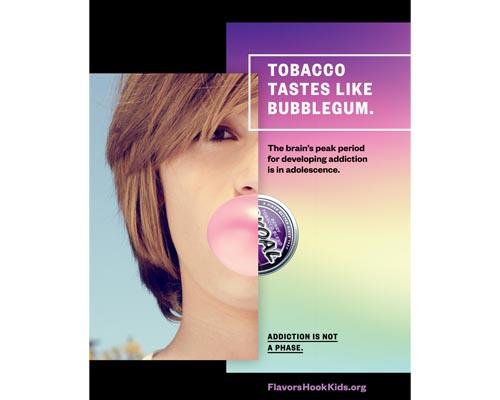 California is also focusing on flavored tobacco products and underage users. In late April, the California Department of Public Health launched a new advertising campaign, "Flavors Hook Kids," to address the problem of youth becoming hooked on nicotine.
As part of the focus, the department said the campaign warns parents and concerned adults about the increasing availability of tobacco products with enticing flavors, and new e-cigarette devices called "pod mods," some of which look like flash drives and other objects making them easy to conceal at home or school.