Heineken "Raise Your Scarf" Promotion
Country-customized soccer scarves come in 10 options.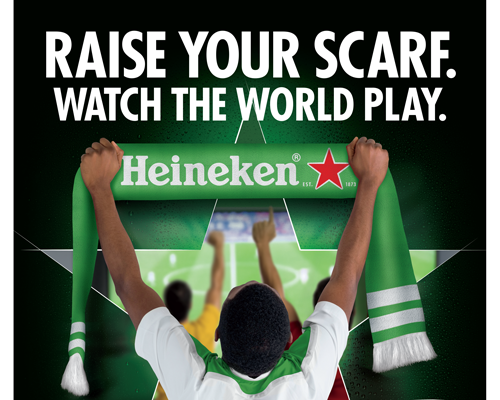 Heineken, the official beer of Major League Soccer, introduces the "Raise Your Scarf" promotion, which offers consumers limited-edition scarves to cheer on their favorite teams. The promotion, which runs from late May through August, is intended to increase Heineken features and displays to maximize retailer sales and profits. Where legal, shoppers who buy any two 12-packs of Heineken in the off-premise channel, or any four bottles or draught beer on-premise, can text a key word to 85500 to receive a link to a microsite to scan their receipt. With that, they receive a limited-edition Heineken, country-customized soccer scarf, with 10 countries to choose from. In states where the purchase of Heineken cannot be required, consumers can purchase the scarf and still be part of the action.  Soccer-themed point-of-sale materials includes pole toppers and standees to support mass displays off-premise, while table tents, banners and posters will drive visibility and engagement on-premise. National media, including TV advertising on Telemundo and Univision, will also drive awareness of the summer promotion and drive traffic to the retail outlets.