05/01/2018
How Marathon Petroleum & Andeavor Merger Will Create a Retail & Marketing Powerhouse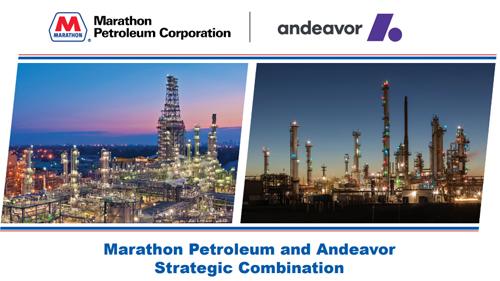 FINDLAY, Ohio — Much like Andeavor predecessor Tesoro Corp.'s 2017 acquisition of Western Refining Inc. created a substantial retail network in the U.S.convenience channel, Marathon Petroleum Corp.'s (MPC) pending acquisition of Andeavor will solidify the soon-to-be combined company as a nationwide player in convenience and fuel retailing.
As Convenience Store News reported Monday, MPC is acquiring all of Andeavor's outstanding shares, representing a total equity value of $23.3 billion and a total enterprise value of $35.6 billion. MPC and Andeavor shareholders will own approximately 66 percent and 34 percent of the combined company, respectively.
"We are very enthusiastic to announce the powerful combination of two great companies, Marathon Petroleum and Andeavor. The combination ... creates a leading, nationwide, integrated energy company with an initial enterprise value greater than $90 billion and, based on its scale, national footprint and quality businesses, it is well positioned for long-term growth and shareholder value creation," said Gary R. Heminger, chairman and CEO of MPC. 
"In addition to the financial benefits of this combination, we believe a compelling aspect of this transaction is our alignment on values, including our focus on safety, environmental stewardship and community involvement," Heminger added during a joint conference call on April 30 detailing the transaction. 
This merger will expand Marathon's operations across key markets nationwide, combining the strong position it has historically enjoyed east of the Mississippi with the western U.S. presence that Andeavor has built over time, according to Heminger. 
In refining, Andeavor's facilities in California, the Mid-Continent and the Pacific Northwest complement MPC's existing Gulf Coast and Midwest footprint, and will make the combined company the No. 1 U.S. refiner by capacity and a top five refiner globally with throughput capacity of more than 3 million barrels per day.
"We are also very enthusiastic about the opportunities in the marketing business, as the company combines MPC's strength with Speedway and the Marathon brand with Andeavor's strong presence in the western U.S., creating a truly nationwide retail and marketing portfolio of nearly 12,000 locations," Heminger explained.
Retail & The Combined Company
The retail and marketing opportunities are significantly expanded as a result of this combination, said Heminger. Pro forma, MPC will have a nationwide retail and marketing business of approximately 4,000 company-owned and -operated locations and approximately 7,800 branded locations.
"At company-owned stores, we plan to leverage Speedway's fully integrated home office, back-office and point-of-sale platforms to drive earnings growth. We see potential for significant synergies through combined best practices and economies of scale throughout our entire retail network, which becomes nationwide in scope," the chief executive said.
"On the marketing side, strong, recognized regional brands provide nationwide coverage for our consumers and create additional channels to better serve our jobber, dealer and wholesale customers," he noted. "We think substantial opportunities exist to capitalize on the footprints both companies have built over time."
Looking at the financials, Marathon and Andeavor expect to realize approximately $210 million in synergies across Andeavor's retail network of approximately 1,100 company-owned or -controlled stores, in line with the synergies Marathon realized with its acquisition of the Hess Corp. retail network in 2014.
"The key to, and we think very rapid deployment of, synergies on retail are around Speedway's back-office. We have one integrated system, one platform that manages the entire store from all the inventory ordering to all labor control to all payroll to all cash controls," Heminger said. "And through this integrated platform, it is going to be an outstanding way to integrate the western side of the retail."
As he explained, Marathon expected to transition the Hess retail network to Speedway stores within 36 months of closing that transaction. However, the company was able to complete the transition within roughly 16 months.
"As we go to one platform in the company-owned and company-operated stores, we are very confident that we will be able to capture those synergies very quickly. Having the expertise of already managing the SuperAmerica stores in Wisconsin and Minnesota is kind of a layup for us; we know the markets very well, we know those stores," he said.
Speedway's customer loyalty program will also play a big role in capturing synergies at retail.
"Day one, that is going to become available as soon as we deploy this platform into the system," Heminger added.
Andeavor's portfolio will also benefit from the Speedway convenience store banner, according to Greg Goff, chairman and CEO of Andeavor.
"I think there is no question that one of the benefits of combining the two companies is to take the incredibly strong position that Marathon has developed with their Speedway business and be able to capture the benefits," Goff said.
"Our Andeavor retail business, there's no question, gets tremendous benefits from the strength of the Speedway business. It was in our thoughts to improve that business; this provides tremendous acceleration with the best retail company in the United States," he stated.
Fuel Brands & The Combined Company
The newly combined company will bring together several fuel brands: Marathon on the MPC side and ARCO, SuperAmerica, Shell, Exxon, Mobil, Tesoro, USA Gasoline and Giant on the Andeavor side.
At this time, no decision has been made on the future of the fuel brands, according to Heminger.
"We expect Marathon to be probably the top brand as we evaluate and bring all the western retail assets under one umbrella, but we haven't made that determination. Andeavor has a very strong brand with ARCO that is well recognized on the West Coast and down into Mexico," he said. "We would expect Marathon to be the dominant brand as we look at the branded side of the business going forward. ARCO will be a very strong brand as well, but we will decide on the others as we continue our evaluation."
Findlay-based MPC is currently the nation's second-largest refiner, with a crude oil refining capacity of approximately 1.9 million barrels per calendar day in its six-refinery system. Marathon brand gasoline is sold through approximately 5,600 independently owned retail outlets across 20 states and Washington, D.C.
In addition, Enon-based Speedway LLC, a MPC subsidiary, owns and operates the nation's second-largest convenience store chain, with approximately 2,740 convenience stores in 21 states. MPC also owns, leases or has ownership interests in approximately 10,800 miles of crude oil and light product pipelines. Through subsidiaries, MPC owns the general partner of MPLX LP, a midstream master limited partnership.
San Antonio-based Andeavor is a premier, highly integrated marketing, logistics and refining company. Andeavor's retail-marketing system includes more than 3,200 stores marketed under multiple well-known fuel brands, including ARCO, SuperAmerica, Shell, Exxon, Mobil, Tesoro, USA Gasoline and Giant. It also has ownership in Andeavor Logistics LP and its non-economic general partner. Andeavor operates 10 refineries with a combined capacity of approximately 1.2 million barrels per day in the mid-continent and western U.S.