Johnsonville Premium Breakfast Sandwich Collection
Sandwiches are prepackaged and individually wrapped.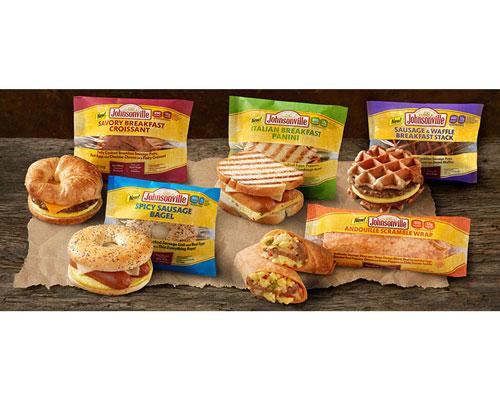 Johnsonville's new Premium Breakfast Sandwich Collection features five signature handheld breakfast options. Prepackaged and individually wrapped, all the sandwiches in the collection are made with high-quality ingredients, boast innovative flavor combinations, and are designed to expand all-day breakfast and grab-and-go menu options for convenience store operators, according to the company. The Premium Breakfast Sandwich Collection includes the following varieties: Breakfast Sausage & Waffle Stack (Johnsonville Breakfast Sausage, eggs, sweet waffles); Italian Breakfast Panini (Italian Split Sausage, eggs, provolone cheese, roasted peppers and onions, grilled sourdough bread); Savory Breakfast Croissant (Breakfast Sausage Patty, eggs, cheddar cheese, croissant); Andouille Scramble Wrap (Andouille Sausage Slices, roasted peppers and onions, three-cheese blend, eggs, chile-tomato tortilla); and Spicy Sausage Bagel (Smokehouse Jalapeno Bacon Cheddar Split Sausage, eggs, provolone cheese, everything bagel).