07/26/2018
Lower Gas Margins & Higher Labor Costs Impact Speedway in Q2 2018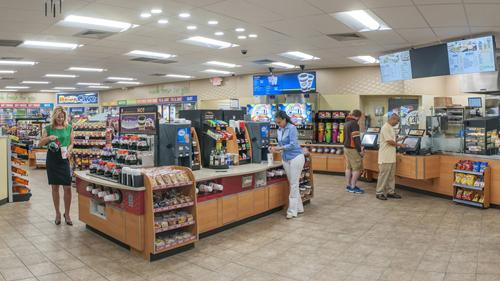 FINDLAY, Ohio — Speedway LLC's convenience store network stumbled slightly in the second quarter of 2018. However, its parent company, Marathon Petroleum Corp. (MPC), believes two pending transactions will help turn things around in the second half of the year.  
Speedway reported income from operations of $159 million in the quarter, as gasoline and distillate margins were adversely impacted by the overall rise in crude oil. As a whole, MPC reported second-quarter earnings of $1.06 billion and income from operations of $1.71 billion.
"Our focus continues to be optimizing total gasoline contributions between volume and margin as market conditions adjust," Don Templin, president of MPC, said during the company's second-quarter earnings call on July 26.
Moving into the second half of the year, Speedway's pending acquisition of the Express Mart convenience store chain from Petr-All Petroleum Consulting Corp. and its pending merger with Andeavor could help bolster the retail network's numbers, Templin explained.  
"We are optimistic about the second half of the year for Speedway, as we are expecting to close on the acquisition of 78 store locations in Syracuse, Rochester and Buffalo, N.Y. in the third quarter," he said. "These stores will enhance our existing network and expand our brand presence in key growth markets.
"The completion of the pending Andeavor combination will add store locations to Speedway's marketing territory, establishing a coast-to-coast presence," Templin continued. "With its industry-leading retail position and loyalty program, Speedway is well situated to expand over this nationwide footprint."
According to Tim Griffith, senior vice president and chief financial officer at MPC, Speedway's second-quarter results were lower than the same period last year by $79 million, primarily related to lower light product margins and higher expenses.
"The retail chain's gasoline and distillate margin decreased to 16.45 cents per gallon in the second quarter of 2018, compared to 18.35 cents per gallon in the second quarter of 2017, primarily due to the effects of rising crude oil prices and the lag effect at the retail level," Griffith explained.
In addition, operating expenses increased $24 million year over year, mainly due to higher labor and benefit costs.
However, the numbers are looking up so far in the third quarter.
"In July, merchandise sales have started off strong. We have seen a 5.5-percent increase in same-store merchandise sales compared to last July, while same-store gasoline sales volumes have decreased about 1.8 percent," Griffith reported.
A Closer Look aT Operating EXPENSES
As Speedway President Tony Kenney pointed out, the rise in operating expenses was driven by two key factors.
First: wage inflation as a result of low unemployment rates across the United States. "That's putting competition for that labor at the store level. We're having to move hourly rates up in order to track that labor," he stated.
To help combat the rising labor costs, Speedway is looking at a number of technology investments, both inside and outside the store, to become more efficient, so it can reduce labor costs, or control the labor costs, to the point that it is competitive in that regard, according to Kenney.
Second: Speedway's expanding portfolio is also contributing to the uptick in labor costs. Notably, the chain added 15 net convenience stores in the second quarter of 2018.
"There are more stores in our portfolio, and we are also adding more complex stores," Kenney said. "As we spend money on remodels and add foodservice, that is going to drive operating costs to perform those functions in a more complex operating environment."
Marathon's merger with San Antonio-based Andeavor will create a national retail powerhouse with roughly 4,000 company-owned and -operated locations and approximately 7,800 branded locations, furthering boosting Speedway's portfolio — and operating expenses.
However, Speedway's technology platform will add to the merger's expected synergies, according to Gary Heminger, chairman and CEO of MPC.
"One of the things we talked about with the merger with Andeavor, [with] our labor model — the platform that we run all of our convenience stores we are going to be able to, in a very short order, transfer that type of technology into those stores," Heminger explained. "That will take some time, but it is one of the key synergies, and I think a key operating efficiency, that we are going to be able to transfer into those stores."
In all, Marathon and Andeavor are targeting $1 billion in run-rate synergies within the first three years of the merger.
"[With] that platform, Speedway manages all inventory. And if you have technology that can manage inventory, you don't need people counting things. It manages all inventory in and out of the store. It manages labor. It manages dayparts of labor requirements," Heminger said. "You'll be able to see that efficient model as we put it into Andeavor stores, and really be able to drive some gains in retail into the future."
Findlay-based MPC is the nation's second-largest refiner with a crude oil refining capacity of approximately 1.9 million barrels per calendar day in its six-refinery system. Marathon brand gasoline is sold through approximately 5,600 independently owned retail outlets across 20 states and Washington, D.C.