11/01/2018
Marathon to Complete 200 SuperAmerica Conversions to Speedway by End of 2018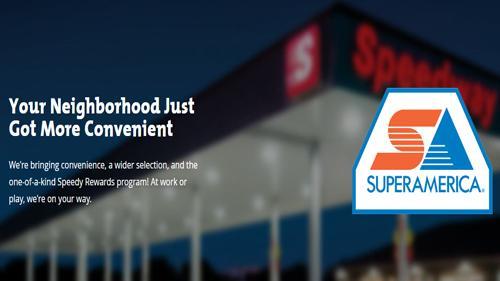 FINDLAY, Ohio — Speedway LLC's convenience store network stumbled in the third quarter of 2018 following a difficult second quarter. However, its parent company, Marathon Petroleum Corp. (MPC), is looking to the future as it continues conversion of the SuperAmerica network as part of its recent merger with Andeavor.  
During the company's third-quarter earnings call on Nov. 1, executives reported income from Speedway operations of $161 million, compared to $208 million during the same quarter in 2017. Q3 gasoline and distillate margins were adversely impacted by the overall rise in crude oil prices. 
Speedway's same-store merchandise sales — with the exception of tobacco — increased by 4.9 percent during the quarter, while same-store gasoline sales volume decreased by 1.2 percent year over year. Expenses increased $28 million, primarily due to higher labor and benefits costs, and depreciation was $8 million higher.
In the month following the closing of its $23.3-billion merger with Andeavor, MPC has begun the process of converting the Andeavor company-owned and -operated SuperAmerica convenience stores to the Speedway brand. Since the completion of the transaction on Oct. 1, roughly 90 sites in the St. Paul and Minneapolis markets have been converted, and the company expects to complete approximately 200 sites by the end of 2018.
"On Oct. 1, we closed on our strategic combination with Andeavor after a vote that demonstrated overwhelming support by both sets of shareholders. We are now the leading, integrated, downstream energy company in the U.S.," said Gary R. Heminger, MPC chairman and CEO. "As we look forward, we see extraordinary potential across our nationwide platform, including over $1 billion of annual run-rate synergies within the first three years."
According to MPC executives, seven to eight SuperAmerica sites are being turned around to Speedway per day. The conversions involve factors such as re-merchandising and back-room operations.
When asked during the Q&A portion of the earnings call what its brand strategy will be moving forward between Marathon's Speedway brand and Andeavor's brand repertoire of ARCO, SuperAmerica, Shell, Exxon, Mobil, Tesoro, USA Gasoline and Giant, MPC said it will continue with the conversion to Speedway in the West and Southwest, starting with the El Paso, Texas, and Arizona markets.
However, MPC remains bullish on choosing a brand to put in the southern and northern California markets, where ARCO has a strong presence. After weighing each brand's benefits and characteristics, MPC's intention is to dwindle down to one brand or a handful of branded sites in the area.
The integration process is expected to reach the California market in mid- to late-2019.
A LOOK AT Q3 FINANCIALS
According to Heminger, this was another impressive quarter for Marathon Petroleum overall. The company reported earnings of $737 million, compared to $903 million in the third quarter of 2017.
MPC's income from operations this quarter was $1.4 billion vs. $1.58 billion in Q3 2017. This was driven by:
Refining & Marketing: Segment income from operations was $666 million, driven by 97 percent utilization and completed successful turnarounds at the Canton and Detroit refineries;
Midstream: Segment income from operations was $679 million; achieved significant growth in gathered, processed and fractionated volumes; and 
Speedway: Segment income from operations was $161 million as gasoline and distillate margins were adversely impacted by the overall rise in crude oil prices. 
"This was another impressive quarter," Heminger commented. "Our team's strong execution drove over $1.2 billion of cash from operations, allowing us to return $607 million to shareholders, contributing to the $3.2 billion of capital returned so far in 2018.
"The market environment appears favorable and our integrated business model enables us to capture opportunities, including wider crude differentials and the changing dynamics of low-sulfur fuel requirements, which we expect to begin to see in the second half of 2019," he concluded.
Marathon Petroleum's third-quarter earnings do not reflect Andeavor's integration. Those financials will be reflected in MPC's fourth quarter 2018 earnings report.
OTHER STRATEGIC UPDATES
In other strategic updates, MPC began evaluating the financial business plans of Andeavor Logistics (ANDX) and Marathon Petroleum Logistics (MPLX) last month, with the intent to move toward financial policies more consistent with its approach toward MPLX.
MPC plans to work with advisors and suppliers to begin the process of assessing all options for the two MLPs, which could include MPLX acquiring ANDX, or ANDX acquiring MPLX.
Findlay-based Marathon Petroleum has the nation's largest refining system, with more than 3 million barrels per day of crude oil capacity across 16 refineries. Its marketing system includes approximately 7,800 branded locations, including approximately 5,600 Marathon branded retail outlets. In addition, MPC owns the general partner and majority limited partner interests in two midstream companies: MPLX LP and Andeavor Logistics LP.
Speedway LLC, a MPC subsidiary, owns and operates the nation's second-largest convenience store chain, with approximately 3,900 retail convenience stores nationwide.