PHOTO GALLERY: Inside Rutter's Largest C-store Yet
Get great content like this right in your inbox.
Subscribe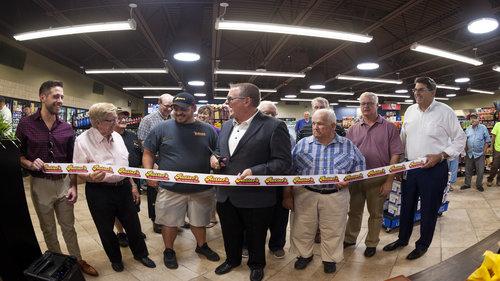 DUNCANNON, Pa. — Rutter's held a grand-opening celebration this week for its largest store yet, a 10,500-square-foot convenience store located 17 miles north of Harrisburg on busy Route 22 along the Susquehanna River.
Rutter's President and CEO Scott Hartman cut the ribbon on the chain's 71st store in front of several generations of Rutter family members, store and headquarter associates, and customers — many of whom told Convenience Store News how impressed they are with the size, product selection and food quality of the spanking-new convenience store.
The chain's largest store is just the latest milestone that Rutter's has marked this year. Hartman also noted that the York, Pa.-based company, which began life as a dairy business 97 years ago, is celebrating the 50th anniversary of its first convenience store.  In addition, Rutter's recently opened its first West Virginia store and expects to soon open a location in Maryland.
Reinforcing Rutter's strong role as a community supporter, Hartman presented separate $1,000 checks during the grand-opening celebration to the Duncannon Fire Co., Duncannon EMS and Central Pennsylvania Food Bank – Harrisburg Branch.
As previously reported by Convenience Store News, the Duncannon store is situated on 10.5 acres and features 14 fueling stations, six dedicated high-speed truck diesel bays, 47 parking spots for cars and 42 truck parking spots.
The 24-hour store contains the retailer's largest restaurant with a selection of both indulgent and healthy burgers, pizza, ribs, smoothies, frozen lemonade and handcrafted beverages.
The new location also incorporates Rutter's latest initiative, bringing fruits and vegetables like watermelon, corn, squash, cherry tomatoes, blueberries, onions, mushrooms and peppers from local vendors. The local fresh produce is sold separately, as well as used as ingredients in Rutter's foodservice offerings.
In addition to the usual indoor seating, the Duncannon store offers outdoor seating. To serve the large number of truckers expected to stop at this high-traffic location, the store's product mix includes a broad selection of travel center-type general merchandise, such as work gloves and phone, GPS and other electronic accessories, travel logs and expense sheets.
And, taking advantage of the recent change in Pennsylvania's state law that formerly prohibited beer sales at c-stores, the new site include a 29-degree cold beer cave with a selection of domestic, premium, craft and imported beer.
The store is also prepared for another anticipated state law change — a wing of the store was left vacant and ready to fill with video gaming machines when Pennsylvania legalizes gambling, as expected.
Click on the photos below to go inside Rutter's largest store to date. 
Photos by Jennifer Stumbaugh