R.M. Palmer Valentine's Day 2018 Lineup
Candy company adds White Peanut Butter Hearts to its offering.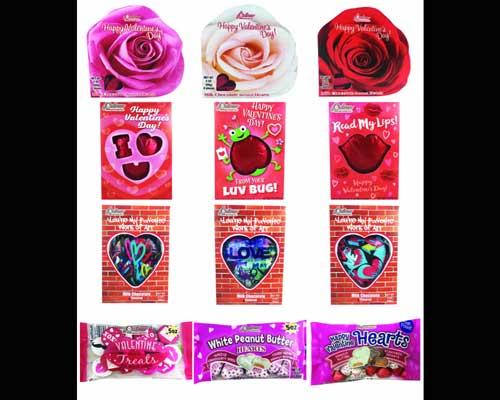 R.M. Palmer is introducing a new lineup of confections for Valentine's Day 2018. New products include: the Valentine's Day Rose Box, which contains 2 ounces of foiled, milk chocolate-flavored hearts with rose graphics, offered in three different colors (suggested retail price of $1); the Assorted Valentine's Day Box, which consists of 2 ounces of foiled milk chocolate-flavored hearts packaged in three different themed boxes (SRP of $1); and "You're My Favorite Work of Art," a 2-ounce milk chocolate-flavored heart foiled in three bold graphic designs (SRP of $1). R.M. Palmer is also offering three Treat Bags: Valentine Treats, a 5-ounce assortment of milk chocolate-flavored discs foiled in fun, iconic symbols of love (SRP $1); White Peanut Butter Hearts, a 5-ounce bag (SRP $1); and Happy Valentine's Day Assorted Peanut Butter Hearts, a 16-ounce bag of assorted peanut butter hearts that includes both white and milk chocolate-flavored hearts filled with creamy peanut butter (SRP $3).