Saffron Road Crunchy Chickpea Snacks
Better-for-you line includes dark chocolate and other sweet varieties.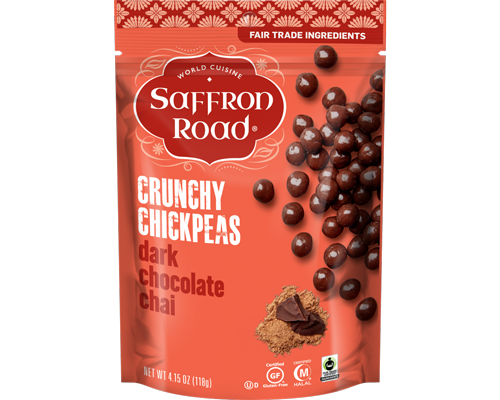 Saffron Road unveils its latest innovation: a line of indulgent, better-for-you Crunchy Chickpeas snacks that include dark chocolate and other sweet varieties. After being roasted to Saffron Road's signature crunchy perfection, the chickpeas are then enrobed in a proprietary panning process that results in a glazed shell like an M&M's candy, according to the company. They are packed with more than 3 grams of protein, and free from any artificial ingredients. Varieties include Dark Chocolate, Dark Chocolate Chai, Salted Caramel and Honey Roasted. Saffron Road Crunchy Chickpeas use antioxidant-rich, Fair Trade certified dark chocolate. All of the varieties are dual certified Halal and OU Kosher, as well as gluten free. The chickpea snacks come in a 4.15-ounce package for a suggested retail price of $4.49.