Tesla's Next Supercharger Station May Feature a Drive-In Restaurant With Carhops
Get great content like this right in your inbox.
Subscribe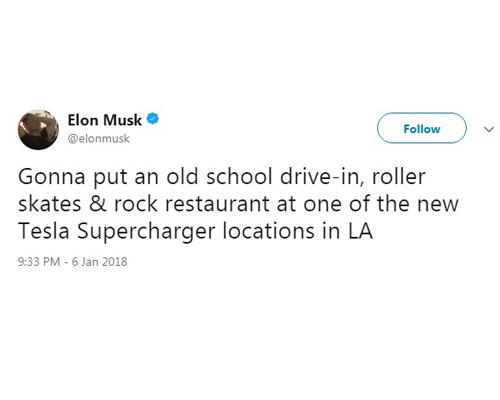 PALO ALTO, Calif. — Elon Musk's visions for an "old school drive-in, roller skates and rock restaurant at one of the new Tesla Supercharger locations in Los Angeles" is taking form.
Tesla Inc. applied for several building permits to build a restaurant and Supercharger station at 1401 Santa Monica Blvd. in Santa Monica, Calif., Electrek reported, adding that the automaker has been increasingly involved in the amenities around its Supercharger stations as of late.
Last year, Tesla opened its two largest Supercharger stations in Kettleman City and Baker, Calif., both of which include a first-of-its-kind customer lounge, food and craft beverages, a pet relief area, play space for children and outdoor space for families, as CSNews Online previously reported.
After the stations' completion, Tesla Chief Technology Officer Jon Straubel sparked talk of Tesla as a c-store competitor in September when he appeared at the foodservice and technology conference FSTEC.
Fast forward to January 2018, and Elon Musk, co-founder, CEO and product architect of Tesla, announced the company's plans for the new Supercharger location in Los Angeles. In subsequent tweets, he explained that it would be a mix of a movie drive-in and a restaurant drive-in with carhops, according to Electrek.
Musk added that the menu could automatically show up on the center touchscreen of cars after they park and drivers can order from there.
Palo Alto-based Tesla operates 830 Supercharger stations, where it clusters multiple chargers, in 31 countries.