Top Women in Convenience Keynoter Epitomizes Courage & Commitment
Get great content like this right in your inbox.
Subscribe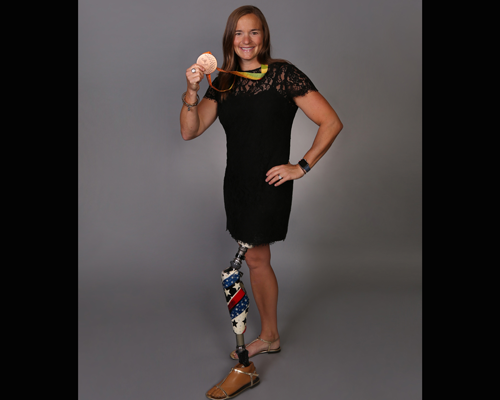 Melissa Stockwell was the first American female soldier to lose a limb in Iraq. Rather than let it defeat her, she used the adversity to fuel her success. You're not going to want to miss hearing her keynote speech at this year's Top Women in Convenience (TWIC) awards reception in October.
A first lieutenant, Stockwell lost her left leg when a roadside bomb exploded while she was leading a convoy in Baghdad. She was awarded the Bronze Star and Purple Heart for her service in Iraq. But she used that adversity to fuel her subsequent success as the first Iraq veteran chosen for the Paralympics. She competed in three swimming events at the 2008 Summer Paralympics in Beijing, and was the U.S. team's flag bearer at the closing ceremonies.
After the Beijing Paralympics, she turned to the triathlon, winning the Women's TRI-2 (above the knee amputee) class in 2010, and then successfully defended her title in 2011 and 2012. She is currently training for the 2020 Paralympics in Tokyo.
Married and the mother of two, Stockwell believes anyone can do anything if they put their mind to it. She hopes her audience at this year's TWIC awards ceremony walks away with a greater appreciation of life and an "I can do anything" attitude. Stockwell's appearance is being made possible by TWIC gold sponsor Procter & Gamble.
Inside the August issue of Convenience Store News, we profile the 45 female leaders (five Women of the Year, 15 Senior Leaders, 20 Rising Stars and five Mentors) who are this year's Top Women in Convenience winners. We are looking forward to honoring them at our 2018 TWIC Awards Reception, being held Monday, Oct. 8 at the Las Vegas Convention Center from 5:30 p.m. to 7:30 p.m.
I especially want to congratulate our five Women of the Year. They each exhibit the kind of "I can do anything" attitude espoused by Stockwell:
Line Aarnes, Vice President, Global Marketing, Alimentation Couche-Tard Inc./Circle K

Laura Aufleger, Vice President, Corporate Communications, OnCue Marketing

Dawn Gillis, Senior Director, Acquisition Integration – Tech Services, 7-Eleven Inc.

Missy Mathews, President, Childers Oil Co./Double Kwik C-stores

Maura Scott, Vice President, Sales, Northeast, Altria Group Distribution Co.
It is with great pride that we celebrate the success of the 2018 Top Women in Convenience winners.